UW Pharmacy Student Jenna Allais Presents Poster at ASHP Midyear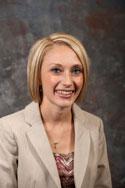 Jenna Allais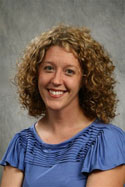 Michelle Hilaire
University of Wyoming School of Pharmacy student Jenna Allais, class of 2014, attended the American Society of Health-System Pharmacists (ASHP) Midyear meeting December 6–10 in Orlando, Florida, where she gave a poster presentation titled, "Assessment of Provider's Knowledge of Current Diabetes Guidelines and Drawbacks to Reaching Patient Goals." Allais worked with Clinical Associate Professor of Pharmacy Practice Michelle Hilaire, Pharm.D., CDE, BCPS, to assess providers' knowledge of current diabetes guidelines and roadblocks in reaching patient goals at the Fort Collins Family Medicine Center in Fort Collins, Colorado.

For the study, Allais administered a survey to 34 providers in the clinic to collect data on their treatment approach in patients with T2DM and their knowledge of treatment guidelines. She says, "My objectives were to increase glycemic control in patients with type 2 diabetes mellitus (T2DM), assess providers' knowledge of current treatment recommendations, gain an understanding of drawbacks preventing patients from reaching their therapeutic goals, and identify opportunities for pharmacists to educate providers regarding diabetes treatments." She provided subsequent information to the providers through daily handouts given over a week period.

Allais and Hilaire concluded that there remains an uncertainty regarding the treatment approach in patients with T2DM and, based on varying answers to the survey, education needs to be continued and reinforced for providers. By taking into account patient specific factors and glycemic goals, providers can make informed decisions to provide optimal patient care. Providers were given tools to help educate them on treatment recommendations for diabetes patients. Further research is necessary to determine the effectiveness of educating providers in this manner and determining the knowledge gained.