UW Pharmacy P4 Student Andrew Grothen Presents Poster at ASHP Midyear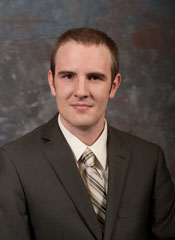 January 28, 2014 — University of Wyoming School of Pharmacy P4 student Andrew Grothen, from Merrimack, New Hampshire, attended the American Society of Health-System Pharmacists (ASHP) Midyear meeting December 6–10 in Orlando, Florida, where he gave a poster presentation titled, "Community Use of Metformin in Patients without Diabetes Taking Antipsychotics and Mood Stabilizers."
Grothen worked on the study with Clinical Assistant Professor of Pharmacy Practice Lanae Fox, Pharm.D., BCPS, at the Wyoming Medical Center in Casper, Wyoming. He investigated whether individuals taking antipsychotics or mood stabilizers took any metformin without having a diagnosis of diabetes. The study concluded that no inpatients at center were taking metformin without a diagnosis of diabetes from October 2012 to September 2013.