UW Pharmacy P4 Student Omo Oisamoje Presents Poster at ASHP Midyear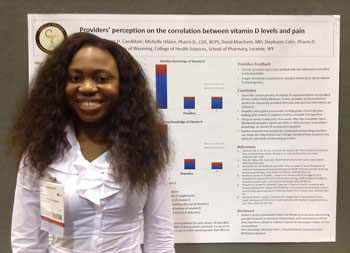 January 28, 2014 — Omo Oisamoje, a University of Wyoming School of Pharmacy P4 student from Laramie, Wyoming, gave a poster presentation titled, "Providers' Perception on the Correlation between Vitamin D Levels and Pain," at the American Society of Health-System Pharmacists (ASHP) Midyear meeting December 6–10 in Orlando, Florida. Oisamoje worked on the research study with Clinical Associate Professor of Pharmacy Practice Michelle Hilaire, Pharm.D., CDE, BCPS, David Marchant, MD, and alumna Stephanie Cohn, Pharm.D. ('13), at the Fort Collins Family Medicine Center in Fort Collins, Colorado.
About the study
The study was conducted to assess provider's current knowledge on the correlation between vitamin D supplementation and pain, and to identify opportunities to educate providers regarding the current literature about vitamin D supplementation. A pre-survey assessment was conducted, and based on the information obtained, a newsletter was created and distributed to providers addressing remedial material. Two weeks following the delivery of the newsletter, a post-survey was administered to the same providers.
Research findings 
Given the current practice of vitamin D supplementation encouraged at the Fort Collins Family Medicine Center, providers at the institution need to be constantly provided with new and succinct information on vitamin D.

Providers were given a newsletter to help guide clinical decision-making with vitamin D supplementation and pain management.

The post-survey conducted a few weeks after the newsletter was distributed showed a significant (90% vs 50%) increase in providers' knowledge on vitamin D compared to baseline.

Further research may need to be conducted on how long providers can retain this information over a longer period of time to assess the utility of such mode of educating providers.