Cara Harshberger Completes the "Dopey Challenge" at Walt Disney World Marathon Weekend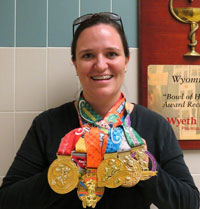 January 14, 2014 — Cara Harshberger, Pharm.D., BCOP, UW School of Pharmacy clinical assistant professor of pharmacy practice, recently competed in the Walt Disney World Marathon Weekend in Lake Buena Vista, Florida. Harshberger completed the Dopey Challenge, where she ran a 5K, 10K, Half Marathon, and full Marathon all in four days, for a total of 48.6 miles. She ran the 5K (3.1 miles) on Thursday, Jan. 9, the 10K (6.2 miles) on Friday, Jan. 10, the Half Marathon (13.1 miles) on Saturday, Jan. 11, and the full Marathon (26.2 miles) on Sunday, Jan. 12. More than 7,000 runners competed in the Dopey Challenge, with more than 50,000 runners from across the nation and 60 other countries participating in the Marathon Weekend events.

Harshberger is a Board Certified Oncology Pharmacist and her practice site is at Ivinson Memorial Hospital in Laramie, Wyoming. Her clinical and research interest areas include oncology, hematology, and cancer prevention.