Interprofessional Education Workshop Provides Opportunities for Collaboration
University of Wyoming School of Pharmacy faculty active in Interprofessional Education

February 7, 2014 — On January 9, 2014, 72 faculty, 2 senior students and the Dean of the College of Health Sciences (CHS) at the University of Wyoming gathered for a very successful one-day Interprofessional Education (IPE) Workshop facilitated by Brenda Zierler and Peggy Odegard from the University of Washington Center for Health Science Interprofessional Education, Research and Practice. Twenty-two faculty from the School of Pharmacy (SOP) attended the workshop and four SOP faculty serve on the CHS IPE Committee.
Interprofessional education occurs when students from two or more professions learn about, from, and with each other to enable effective collaboration and improve health outcomes. Once students understand how to work interprofessionally, they are ready to enter the workplace as a member of the collaborative practice team. This is a key step in moving health systems from fragmentation to a position of strength.
Source: World Health Organization (WHO). (2010). Framework for action on interprofessional education & collaborative practice. Geneva: World Health Organization. See http://whqlibdoc.who.int/hq/2010/WHO_HRH_HPN_10.3_eng.pdf.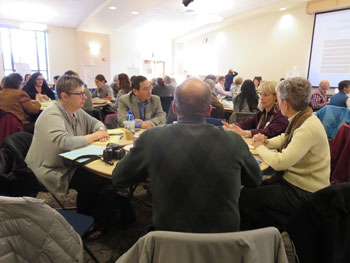 Every CHS unit was represented at the workshop as well as several other departments from elsewhere on campus (Counselor Education and Veterinary Sciences) and even Colorado State University representing Occupational Therapy. This totaled 15 different disciplines or departments interested in participating in interprofessional education efforts. "This gathering was the first of its kind for the college, and there was good energy and great planning that resulted," says Carol Kobulnicky, chair of the CHS Interprofessional Education Committee. "Every institution in the country is having to approach their health sciences interprofessional education efforts differently. We're working to build on our strengths and to take advantage of the unique opportunities for collaboration we have at the University of Wyoming."

In the past five years, there has been a growing national (and global) interest to promote substantive interprofessional learning experiences to prepare students to embrace and be capable of practicing on health care teams to improve patient care. Four years ago, CHS initiated an Interprofessional Education Committee whose charges include promoting and coordinating interprofessional education efforts within the college. In addition to Kobulnicky, other SOP faculty serving on the committee include Lanae Fox, Lauren Biehle, and Cara Harshberger.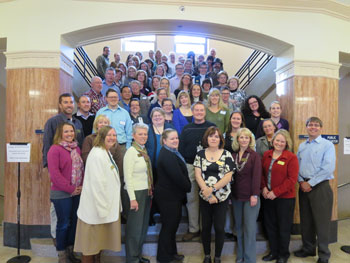 The committee is now reprioritizing and strategizing IPE efforts in the college based on the outcomes of the workshop. Nine subcommittees have resulted with the top priority project groups having already met. The number of faculty now closely involved in envisioning and working to provide IPE at the college has more than doubled in number. "A big thank you goes out to Dean Joe Steiner whose office financed the endeavor and to Holly Miller, Christiane Dechert, and Craig Vaske (members of the IPE Committee) and to Mark Belcher and Laurie Kempert, both of the Dean's Office. The event could not have happened without them," states Kobulnicky. "The workshop has propelled us forward to better envision and implement interprofessional education and interprofessional practice in Wyoming. It's an exciting time."

In addition, social and administrative pharmacy faculty Carol Kobulnicky and Reshmi Singh are involved with IPE-based research.

The list of the disciplines/departments represented at the Interprofessional Education Workshop were:

College Advising
UW Family Practice Medical Residency
Communication Disorders (includes Speech Language Pathology, Audiology)
Counselor Education
Dean's Office
Kinesiology and Health
Library Sciences
Nursing
Occupational Therapy (from outside university)
Pharmacy
Social Work
Veterinary Sciences/Epidemiology
Wyoming Institute for Disability (Disability Studies)
WWAMI
Wyoming Geriatric Education Center