School of Pharmacy
Health Sciences, Room 292
1000 E. University Ave.
Dept. 3375
Laramie, WY 82071
Phone: (307) 766-6120
Fax: (307) 766-2953
Email:
uwpharmacy@uwyo.edu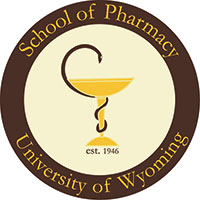 Xihui (Alex) Xu Receives 2013 C-CRAM Outstanding Researcher Award
By Dr. Sreejayan Nair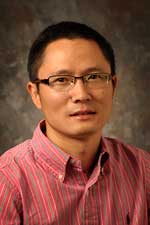 January 16, 2014 — The UW Center for Cardiovascular Research and Alternative Medicine (C-CRAM) presents an annual research award for the outstanding C-CRAM researcher based on a points system taking into account the publications, journal impact factor, presentations, awards etc. This year's recipient of the award, Xihui (Alex) Xu, has to his credit 11 papers published/accepted in top-tier journals including Cardiovasc. Res., Hypertension, Autophagy, J. Mol. Cell Cardiol. and J Am. Heart Assoc. He had presented three posters at the 2013 AHA Scientific Sessions (Dallas) and an oral presentation in the Third Biennial Western Regional IDEA Conference (Hawaii). He is also the recipient of this year's ACRE-CnAHA Symposium award (second prize) and the BCVS-AHA Travel grant. Alex also successfully defended his PhD thesis in 2013 and has the distinction of the first graduate student from the Biomedical Sciences Graduate Program.

The C-CRAM award was established in 2004 and the past recipients are: Sreejayan Nair and Feng Dong (2005), Xiaoping Yang (2006), Min Du (2007), Ji Li (2008), Heng Ma and Meijun Zhu (2009); Tuerdi Subati and Yingmei (Megan) Zhang (2010), Yinan Hua (2011); Yingmei (Megan) Zhang (2012).