Career Pathway Opportunities by UW Pharmacy Alumnus Joseph Bruno
A Letter to the Students at the University of Wyoming School of Pharmacy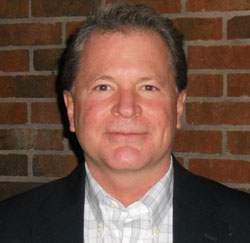 March 18, 2014 — In this letter to UW School of Pharmacy students, alumnus Joseph E. Bruno, Pharm.D., R.Ph., shares experiences and insights from his amazing 29-year career and how pharmacy career opportunities have opened in many different alternative paths from the traditional retail or hospital avenues. Bruno (B.S.P. '85) lives in Savannah, Georgia, where he is the clinical director for AriVan Research and the director of the Dominion Research Center.
The start of an amazing career
This all started one morning as I was going through my emails before diving into the days' project work. There was an email from the School of Pharmacy at UW announcing job opportunities for pharmacists. Among the listings was a posting for a position seeking new graduates in Fairbanks, Alaska. I smiled and drifted back to an experience I had many years ago. My next thought was "I never would have thought that I would be here in my office looking back on such an amazing career that all started in Fairbanks, Alaska, after graduation from the UW School of Pharmacy."
I remembered sitting in my last semester classroom one morning waiting for Dr. Bob Scalley to walk into the classroom in Poudre Valley Hospital in Fort Collins, Colorado. We had a few minutes yet until class started so we were passing around a copy of a letter from the School of Pharmacy listing current job opportunities for new graduates in the spring. As I was scanning down the list, I came across an opening at Fairbanks Memorial Hospital in Fairbanks, Alaska. After class that day, I sent off a resume that had nothing on it except the hope to graduate from pharmacy school. I received an invite for a telephone interview with the director of the pharmacy at the hospital. A week later, I was at a payphone in a bar waiting for the phone to ring for my interview. Two weeks after graduation in 1985, I was on a plane to Fairbanks, Alaska, with nothing more than a footlocker and my backpack.
What a great rush of memory as I now am sitting in my office looking back on an amazing career spanning 29 years so far. It is hard to imagine the opportunities I have experienced in my career. When I graduated in 1985 with a five-year bachelor's degree in pharmacy, there were really only two avenues available to pharmacists; retail or hospital work. If you decided to go the two extra years for the Pharm.D. degree (which was only offered in a handful of schools at the time), you could also do some university teaching or find a hospital-based clinical position in large metropolitan area.
I worked at Fairbanks Memorial Hospital for two years as the graveyard shift pharmacist. You have to start somewhere, especially when the ink is still wet on your new license. I realized with my first job that I learned so much in pharmacy school but the real career learning came on the first job out of school. I also realized that with this career choice, the world was my oyster. I could go anywhere and do anything that I wanted to challenge myself with both professionally and personally.
Advice to new practitioners about trends and opportunities
In the earlier years of my career, pharmacists were all pharmacists. There really was no specialization. If you took on a job that was over your head as far as skill sets go, someone would train you for a few weeks if you were lucky until you were on your own. The standard years ago was, "No, I have no experience with that but, if you show me how to do it, I'll run with it." I have also seen a steady progression over the past decade to specialization directed towards job functions. On the job training is now being replaced with specialized educational programs, workshops, and extended residency programs. This is most evident from searching through job postings now requiring direct experience, board certification, and PGY1 and/or PGY2 residencies.
This trend is bringing the pharmacy profession closer to the medical profession in regard to competencies and advanced certifications beyond the diploma. With this, I have also seen a steady trend toward more clinically competent pharmacists in the workplace. I am seeing fewer and fewer pharmacists who are only capable of counting to five on a tray in the workforce now. The higher bar set for pharmacists now has led to greater professional acceptance among other healthcare professionals. To keep in pace with this trend, I completed a non-traditional, off campus, Pharm.D. program 10 years ago. I will never regret that accomplishment as it has opened up a whole other set of career opportunities that have led me to where I am now.
Gaining retail experience and lifestyle choices

After having two years of hospital-based pharmacy experience completed, I decided to get some retail (community) experience. I knew I could transfer my license to almost anywhere I wanted so the choice was made based on location. I decided to work a small, beach drugstore in Rehoboth Beach, Delaware. Why not? You can transfer your license anywhere (almost). At this point in my career, I realized that lifestyle and surroundings would come into play. The job is the job for X amount of hours per day but then what about the lifestyle you choose for yourself?
IHS, residency, and growing personally and professionally

So now, we come to the point in my career where hospital and retail have been crossed off the list. What do I want to do next?  That was the time in 1989 when I decided to become commissioned in the US Public Health Service and be posted to the Indian Health Service (IHS) in Albuquerque, New Mexico. This also gave me the chance to complete a one-year pharmacy practice residency. My first assignment was at the Indian hospital in Albuquerque. I then transferred to the Taos Indian Reservation clinic in Taos, New Mexico. The unique thing about this is that pharmacists in the IHS system work off of a patient chart versus just an order for a treatment to be filled (SOAP note-style of history and treatment plans). This provided me with an incredibly valuable clinical experience. I also had my first involvement with a closed formulary run by a very strong P&T committee.
Downhill skiing and other outdoor activities were off the hook. I had to think about life once again, too. You will need to progress yourself personally as well as professionally and sometimes the two go hand-in-hand, especially when looking at advancing in life.
Challenge yourself to seize opportunities
Now it is 1992 and I am ready for my next challenge. Where do I go from here?  What else could there possibly be to do?  At this point in my career, I decided, based on my previous experience in Alaska, that there was an opportunity just waiting for the right person to take on the challenge. A huge challenge I thought, but that is what you will need to do with your career if you want to progress. You need to reach higher and make things happen for yourself. If you find yourself at a standstill and nothing seems to be coming your way, that is when you need to make things happen for yourself.
Pharmacy is a career choice where you can easily stall in one dead-end position after another doing the same thing day after day. Opportunity won't come knocking on your door in pharmacy as much as other professions. I have seen many pharmacists get into a rut and watch 20 years spin by with no advancement. That is fine for some people but incredibly boring for others. If you want to advance in pharmacy, you need to seize opportunities above your current situation and abilities.
Explore alternative paths
So that is when I decided to start the first organized pharmacy relief service for the state of Alaska. I knew from my previous experiences in Alaska that there had always been a huge shortage of pharmacists in Alaska. Within two years, I didn't need to advertise anymore and all of my business was based on reputation and word of mouth. My jobs comprised hospitals and retail pharmacies that were short because of vacancies waiting hiring a permanent pharmacist. I also serviced small town "Mom-n-Pop" independent pharmacies doing vacation coverage. Another area of great need was the Native clinics in very remote, isolated villages in the bush (they also used the IHS computer systems and charting). That was an absolutely satisfying and amazing career move. It is also called "jumping without a safety net."  Some call it "taking a leap of faith."  I closed down that operation in 1999 and moved to North Carolina to take care of a parent diagnosed with cancer.
Embrace career challenges and accomplishments
I continued to do relief work in local, independent pharmacies while working on my Pharm.D. program, which I completed in 2004. Now I was ready to redirect my career once again into drug information and medical communications. To accomplish this, I posted my resume on Monster.com and was hired by IMS as a consultant. I worked in Reading, Pennsylvania, with IMS for one year before being offered a position as the clinical director for a small consulting firm known as AriVan Research. I have been in that role since 2006. I also have a small drug information service that I direct known as the Dominion Research Center. I live and work out of a home office in Savannah, Georgia, and love my life.
My current positions are incredibly challenging, so I will be staying in my current roles for many years to come. When you need to "pull a rabbit out of a hat" to accomplish a project, that is when you know the challenge is big enough. The colleagues I work with are top notch professionals and also wonderful human beings. That means a lot. I get a huge sense of satisfaction with my positions at work and in my personal life.
Advice to students whose careers are yet to be realized
As new graduates you will have to choose what you want to do with your career based on many variables and not all of them will be under your control. My set of circumstances is unique to me and most will not choose these types of opportunities that I have described for myself. My CV reads like the "Indiana Jones of Pharmacy" but then again that is why I am on your doorstep right now.
Please feel free to visit both of our websites to get a better understanding of our offerings as an example of opportunities available to pharmacists beyond the basics:
AriVan Research
Dominion Research Center
I want to thank the University of Wyoming School of Pharmacy for giving me the opportunity to have such a wonderful career. It also makes me feel great to be able to give back to the school with this letter directed at all of the students sitting in their last classes looking at a career yet to be realized. "Seize the day because today will never come again."
Joseph E Bruno Pharm.D., R.Ph.
Clinical Director – AriVan Research
Director – Dominion Research Center
PO Box 13323, Savannah, GA 31416
610-639-0447 mobile
joseph@dominionresearchcenter.com
(photo courtesy of Joseph Bruno)