Mary Onysko Published in American Family Physician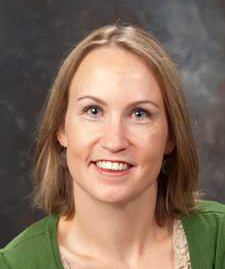 March 21, 2014 — University of Wyoming School of Pharmacy faculty Mary Onsyko, Pharm.D., BCPS, and former faculty member Katie Thompson, Pharm.D., BCPS, had an article published in the March issue of American Family Physician titled, "Common Questions About Clostridium difficile Infection." This review article was the result of a collaborative interprofessional effort between pharmacy faculty, a family medicine resident, and faculty physicians.

C. difficile infection is a common cause of antibiotic-associated diarrhea, with the incidence and severity increasing in recent years. This article highlights practice pearls for primary care physicians for preventing, diagnosing and treating this disease.

Onysko is a UW clinical associate professor of pharmacy practice and an assistant clinical professor with the Swedish Family Medicine Residency affiliated with the University of Colorado School of Medicine in Denver, Colorado. Thompson is now practicing pharmacy at Oklahoma University Medical Center in Oklahoma City, Oklahoma.