Jodi Schilz Presents BMS Ph.D. Dissertation Defense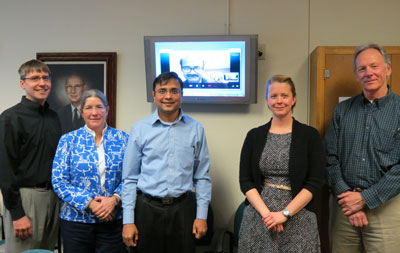 April 17, 2014 — In April, Jodi Schilz, a graduate student in the University of Wyoming Biomedical Sciences (BMS) Ph.D. Program, defended her doctoral dissertation titled, "Investigating the Ability of Cupric Oxide Nanoparticles to Adsorb Metal Contaminants from Uranium in-Situ Recovery Production Bleed Water and Assessing the Associated Changes in Cytotoxicity." Schilz worked under the supervision of Suzanne Clark, Ph.D., assistant professor of pharmacology at the UW School of Pharmacy. While in the BMS Ph.D. program, Schilz provided an overview of her research and why she chose the UW program.

Schilz presented her dissertation defense to her advisory committee members Kem Krueger, associate dean, research and outcomes and associate professor of pharmacoeconomics and health outcomes research, School of Pharmacy; Suzanne Clark, assistant professor of pharmacology, School of Pharmacy; Sreejayan Nair, associate professor of pharmacology, School of Pharmacy, and director, UW Biomedical Sciences Ph.D. Program; KJ Reddy, George Duke Humphrey Distinguished Professor of Ecosystem Science and Management; and Don Roth, professor and associate director, School of Energy Resources.

Photo:
Jodi Schilz (second from right) poses with her advisory committee members following her doctoral dissertation defense. Committee members (L to R) are Kem Krueger, Suzanne Clark, Sreejayan Nair, KJ Reddy (via web conference), Schilz, and Don Roth.