Students Attend APhA-ASP National Meeting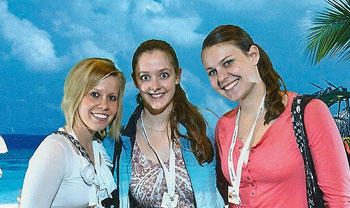 April 10, 2014 — University of Wyoming American Pharmacists Association Academy of Student Pharmacists (APhA-ASP) chapter members (L to R) Presley Legerski, Kali Autrey, and Jessica Potthoff attended the APhA-ASP National meeting in Orlando, Florida, March 28–31.

During the three-day meeting, the students attended many different educational sessions. Workshops such as Generation Rx, Operation Heart, and the President-elect workshop provided information which will help the students improve their chapter. In addition, they attended sessions to help them improve as future practicing pharmacists, including a workshop on becoming leaders, improving transitions for care, and postgraduate education and opportunities. They also represented their Wyoming chapters at the House of Delegate sessions for APhA-ASP, Phi Lambda Sigma, and Rho Chi.

Autrey represented Wyoming in the National Patient Counseling Competition. There were over 100 other participants in the competition, which encourages student pharmacists in their efforts toward becoming better patient educators.

This was the first time that Legerski and Potthoff attended the national meeting. They both say it was a great experience for them. They look forward to going again next year to San Diego, California, and want to encourage other APhA-ASP members to go as well.
(photo courtesy of Presley Legerski)