UW School of Pharmacy Student Organizations Honor 2014 Award Recipients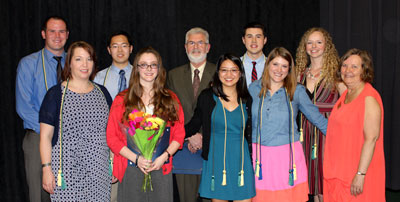 May 3, 2014 — University of Wyoming School of Pharmacy student organizations announced their 2014 members of the year and achievement awards during the school's Annual Honors and Awards Banquet May 3. In addition to honoring the award winners, the organizations also recognized honor cord and certificate recipients.
At left, Dean Linda Gore Martin is pictured with Phi Lambda Sigma Honor Cord recipients (L to R) Michael Hardy, Jennifer Steiner, Han Li, Kali Autrey (Alpha Nu Chapter Member of the Year), Alpha Nu Chapter Faculty Leadership Award recipient Dr. Bruce Culver, Tracey Le, Quincy Shaw, Kendra Whalen, and Megan Saunders (not pictured: Andrew Draper).
2014 Student Organization Awards

Academy of Student Pharmacists
ASP Service Achievement Award – Kali Autrey
ASP Senior Recognition Award – Megan Saunders
American Society of Health System Pharmacy
ASHP Member of the Year Award – Nathan Fuller
Past President Award – Andrew Grothen
Current President's Award – Nathan Fuller
National Community Pharmacy Association
NCPA Cords - David Albright, Tracey Le, Jason Cory, Melissa Mehle, Thien Pham, Kendra Whalen, and Quincy Shaw
NCPA Member of the Year Award – Forrest Floyd
NCPA Faculty Appreciation – Dr. Jennifer Petrie
Rho Chi
Honor Cords - Ryan Randall-Brost, Kole Thornton, Laurel Peden, Omo Oisamoje, Rebecca Pullos, Jenna Allais, Han Li, Melissa Jones, and Megan Saunders
Certificates - Brandon Tritle, Kendra Siebigteroth, Taylor Gardner, Linzi Barton, Nicolas Cadman, Wenyang Donehue, and Paige Nelson
Rho Chi Scholarship – Nicolas Cadman
Phi Delta Chi
PDC Cords - Michael Hardy, Tracey Le, and Megan Saunders
Brother of the Year Award – Brandon Anderson
New Brother of the Year Award – Charles Morrison
P4 Brother of the Year Award – Michael Hardy
PDC Brotherhood Scholarship – Ashley Francis
Staff Appreciation Award – Bobbie Cesko
Faculty Appreciation - Dr. Bruce Culver
Phi Lambda Sigma
PLS Cords - Michael Hardy, Jennifer Steiner, Han Li, Kali Autrey, Tracey Le, Quincy Shaw, Kendra Whalen, Megan Saunders, and Andrew Draper
Alpha Nu Chapter Faculty Leadership Award – Dr. Bruce Culver
Alpha Nu Chapter Member of the Year – Kali Autrey
See photos of the University of Wyoming School of Pharmacy student organizations' 2014 awards from the Annual Honors and Awards Banquet in May.

(banquet photos by Jeff Gilmore Photography)