Bobbie Cesko Receives UW College of Health Sciences Dean's Award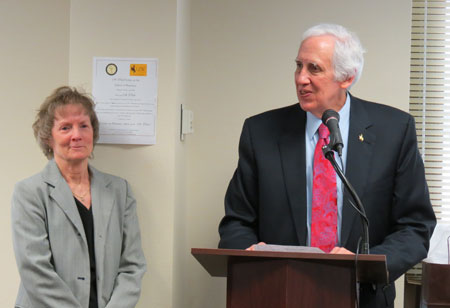 June 24, 2014 — University of Wyoming School of Pharmacy Staff Assistant Bobbie Cesko has received the College of Health Sciences Dean's Award. The Dean's Award is the highest award in the college and is given to someone who has an outstanding career devoted to their division and the college.

In announcing the award, CHS Dean Joseph Steiner commented, "Bobbie has worked for six deans of the School of Pharmacy over the years, which is remarkable since there were only seven deans total, and even more remarkable because some of them were real characters." He added, "Bobbie is the 'institutional memory' for the School of Pharmacy and she is very important to its operations." He continued, "Bobbie has always been extremely helpful and supportive to me beginning when I was with the school."

"Receiving the Dean's Choice Award was special to me because it came from Dean Steiner," says Cesko. "I have worked with Joe, in some capacity, for the entire 32 years I've been at the School of Pharmacy. He is a special person and mentor to me."

Cesko has been with the University of Wyoming for 35 years and with the School of Pharmacy for 32 years. She started at UW as a secretary for the Department of Agricultural Economics, then became the receptionist for the school in 1982. In 1988, Cesko became the faculty secretary and has been in her current position since 1992. Cesko has worked for the following deans: Jack Bone, Robert Nelson, John Baldwin, Paul Ranelli, John Vandel, and Linda Gore Martin.

Dean Linda Gore Martin says, "As office manager, Bobbie manages all functions of the administrative office in the School of Pharmacy, including most of the financial operations. Maintaining balance in a position of this type is extremely difficult, but Bobbie handles it with seeming ease." Martin adds, "Bobbie has seen over 1000 students graduate and assisted with innumerable accreditation site visits and reports. One of her great pleasures is to interact with the students; she maintains contact with numerous alumni and remembers hundreds more. Bobbie has been the bond that keeps everyone together."

During her career, Cesko has received many honors. She received the College of Health Sciences Outstanding Staff Award in 2004 and has been nominated for the UW Staff Employee of the Quarter twice. She received a 2011 Tip of the Cap Award from Mortar Board, the senior honor society at the university, recognizing UW staff members for "exceptional contributions to the University of Wyoming and inspiration of students." Cesko has also been honored several times by School of Pharmacy student organizations during her years at the school including the Phi Delta Chi Staff Appreciation Award.
Photo:
University of Wyoming School of Pharmacy Staff Assistant Bobbie Cesko is presented with the College of Health Sciences Dean's Award by CHS Dean Joseph Steiner during the CHS Faculty/Staff Meeting and Awards Reception.