Bruce Culver Receives UW College of Health Sciences Career Achievement Award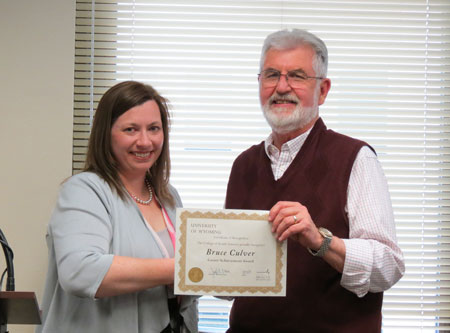 June 24, 2014 — University of Wyoming School of Pharmacy Professor Bruce Culver, Ph.D., has received the 2014 College of Health Sciences Career Achievement Award. Culver was recognized by the college for the impact he has had throughout his 37-year career of teaching, research, and service.

"During his tenure at UW, Dr. Culver has positively influenced thousands of students through his teaching, advising, and mentorship." a colleague says in nominating Culver for the award. "Despite other research and service responsibilities, Dr. Culver has consistently maintained one of the highest teaching loads within the school. His exemplary teaching and advising have been recognized seven times over the years."

Culver's primary teaching responsibilities include the two-semester pharmacology course as well as the accompanying pharmacology lab/discussion. He has also contributed to the clinical toxicology and pathophysiology courses. In addition, Culver teaches pharmacology to nursing students each fall as well as through an online course three times per year.

Culver is part of the UW Biomedical Sciences Graduate Program and is a graduate faculty member in Neuroscience, Molecular Cellular Life Sciences and Reproductive Biology. Through the years, he has supervised six graduate students, served on 51 master's thesis committees, and 55 doctoral thesis committees. Culver participates in the Neuroscience graduate seminar course and previously taught the Molecular and Cellular Basis of Disease for WWAMI students.

The colleague adds, "In addition to teaching, Dr. Culver has had ongoing scholarly pursuits as well. He has forged many collaborative partnerships with other UW faculty over the years and has over 50 publications, 4 book chapters, and 40 presentations. Dr. Culver is a wise and valued resource for new pharmaceutical science faculty and quick to mentor students with research interests. He is always approachable and consistently makes himself available to others seeking his guidance."

"Dr. Culver is an extremely pleasant man who has many strong qualities, three of which include professionalism, enthusiasm, and wisdom," adds another colleague. "He cares deeply for his fellow co-workers and has been an outstanding mentor to his new first-year colleagues. While he is an insightful and creative scientist in his own regard, what really sets Dr. Culver apart is his ability to improve the research of those around him. His love of learning and genuine ability to look through a very special lens at life truly inspires me every day."

Throughout his career, Culver has also made numerous service contributions. He served for 10 years in an administrative position within the school as the division director and then associate dean of pharmaceutical sciences. He has served on countless committees at the university, college and school level. Most notably, he has served on the UW Graduate Council for 11 years, the UW Promotion and Tenure committee for 3 years, and the Radiation Safety Committee for 16 years. Culver has served as the faculty advisor for Phi Delta Chi for 22 years.

Culver has received numerous awards during his career including receiving the UW Excellence in Advising Award four times and receiving both the CHS Excellence in Teaching Award and the Outstanding Teacher Award.  Other awards include the UW James C. Hurst Each Student-A Person Award, UW School of Pharmacy class of 2011 Faculty of the Year Award for Pharmaceutical Sciences, U.S. West Communications Teaching Excellence Award, Golden Shovel Teaching Award (given by pharmacy students), and numerous awards and honors presented by UW School of Pharmacy student organizations.


Photo:
University of Wyoming School of Pharmacy Professor Bruce Culver, Ph.D., is presented with the College of Health Sciences Career Achievement Award by CHS Faculty Development Committee Chair Tonja Woods, Pharm.D., CGP.