"Opportunities to get involved are plenty."
School of Pharmacy
Health Sciences Center, Room 292
1000 E. University Ave., Dept. 3375
Laramie, WY 82071
Phone: (307) 766-6120
Fax: (307) 766-2953
Email:
uwpharmacy@uwyo.edu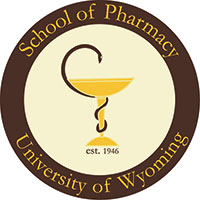 Andrew Ssekajja
Pharm.D. Candidate, Class of 2015
Education History:
I was born in Kampala Uganda. That is where I gained my foundation in academics by attending nursery school (kindergarten) and primary school. I moved to Centennial, Colorado and became a Raptor at Eaglecrest High School and also a pre-collegiate scholar at the University of Colorado at Denver and Health Science Center. Thereafter, I chose the University of Wyoming because they had a pre-pharmacy program and in the fall of 2007, I became a Cowboy. I have since added a degree in physiology while continuing my pursuit for a Doctorate in Pharmacy, all due to complete in 2015.
Why did you want to attend the UW School of Pharmacy?
I was lured to UW by the pre-pharmacy program and the class size. I envisioned myself in such an environment and it has been a wonderful experience thus far. I also visited the campus at the time it was green; it reminded me of my hometown. It was in August.
Student Activities:
The size of the school and small class size gives a great student/instructor ratio and the rural setting provided me with an environment in which I could participate in anything I wanted. I have been able to sharpen my skills such as leadership, communication, planning, time management, etc. through my active rolls in recognized student organizations such as the Associated Students of the University of Wyoming (ASUW), Student Government (in which I served as a senator and later as a justice), AmeriCorps Internship with the Student Leadership and Civic Engagement (SLCE) office, and I have also mentored pre-pharmacy students as a Resident Advisor and through the Multicultural Student Leadership Initiative (MSLI).
Experiences while at UW and the School of Pharmacy:
I had an opportunity to be the class vice president in my P1 year, which was a humbling experience as well as an opportunity to lead and interact with my peers. I became involved in the National Community Pharmacists Association (NCPA) as the New Member Chairman and also served as a class representative to the Curriculum and Instruction Committee.
Future Goals:
Upon completing my studies, I hope to practice with the same philosophy of practice I have always had--to work with and care for patients in the various fields of pharmacy that my doctorate allows me. I would like to promote quality of life and health by being a professional who aims at maximizing medication benefits while minimizing risks and cost as much as possible. I am finding that other goals spring up as I go, so am very excited and eager to see the kind of professional I am going to be as I go through pharmacy school.
Share This Page:
Andrew Ssekajja, University of Wyoming School of Pharmacy Pharm.D. Candidate, Class of 2015.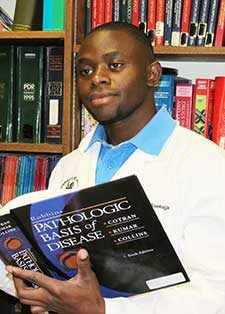 "I never had a chance to actually step foot into a pharmacy prior to my choice of this career path. What I recall is that when I was in Uganda there was a scientist at Makerere University who worked closely with John Hopkins University researching AIDS medicines. I was inspired with the approach they were taking trying to offer palliative pharmaceutical therapy using herbal products that the locals had used for generations. This got me curious about active ingredients in all drug dosage forms and this led me to the field of pharmacy. Some of my family members are healthcare professionals in some way but we don't have a pharmacist--yet."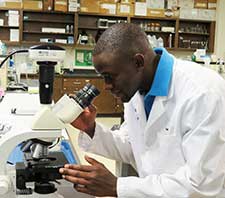 "I have always found research to be one of the areas in academics that interests me. In an effort to expand and apply what I learn, I have sought opportunities to do research. I had a semester of independent study with a UW School of Pharmacy faculty member and this reaffirmed my value for research."