"My overall experience at the University of Wyoming School of Pharmacy has been exceptional."
Quincy Shaw
Pharm.D. Candidate, Class of 2014
Education History:
I graduated from York High School (York, Maine) in 2006. I began my college career at the University of Wyoming in the fall of 2006 where I completed three years of pre-pharmacy undergraduate coursework prior to being accepted to the UW School of Pharmacy. I am also currently a completion cadet with the Army ROTC program and upon graduation I will receive a minor in Military Science.
What inspired you to become a pharmacist?
Growing up as a kid, I always knew that I wanted to join the healthcare field. My inspiration to pursue a pharmacy career was seeing first-hand how successful my mother was with her position as a staff pharmacist at CVS.
Why did you want to attend the UW School of Pharmacy?
Coming out of high school, there were two key aspects that I looked into when viewing colleges with the first being that the university had a pharmacy program. The second aspect was that the university had an Army ROTC program. The University of Wyoming intrigued me because it had fulfilled those two requirements and because my mother is an alumna of the pharmacy program.
Research Opportunities:
Initially, I had little interest of participating in the area of research. However, I have quickly learned the necessity of research within our profession and healthcare in general. I would definitely be interested in getting involved in some type of research opportunities in the future.
Student Activities:
The University of Wyoming School of Pharmacy offers numerous opportunities to become active outside of the classroom. I would like to think that I have taken advantage of many of these opportunities by becoming involved in various pharmacy student organizations. Through my involvement I have had the opportunity to build relations with my fellow pharmacy peers, collaborate with other healthcare professionals, network with pharmacists throughout the profession, and attend national meetings in Nashville, New Orleans, and Philadelphia. I would strongly encourage an incoming pharmacy student to participate in a student organization sometime during their pharmacy school career.
Experiences while at UW and the School of Pharmacy:
I have made lifelong friends and been a part of endless opportunities that will enhance my future pharmacy career, while having a good time. I feel confident in my education and the knowledge gained at the University of Wyoming School of Pharmacy.
Advice for prospective students considering the UW School of Pharmacy:
One of the most common struggles a new student has when entering the professional pharmacy program is balancing the course load; whether it is trying to balance school work while trying to participate in student activities, or simply not spending enough time studying for exams. I would highly recommend prioritizing your classes and seek help earlier rather than later when it is too late. Once you have figured out how to balance your classes, then I would highly suggest getting involved in student activities. Even though you are here to earn an education, you need to remember to try and save some time to have fun!
Future Goals:
Upon graduation from pharmacy school, I will be commissioned into the United States Army as a Captain. I will serve my four-year active duty obligation as an Army pharmacist. I hope to explore all of my options while serving as a pharmacist in the Army to include possibly participating in a residency program or receiving more educational opportunities. After I retire from the military, I would like to own and operate my own independent pharmacy.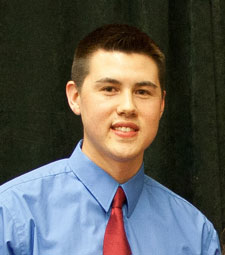 "I believe that one of the focal points of the pharmacy program at the University of Wyoming is the small class size of 52 students. This creates a more relaxed and enjoyable atmosphere, which allows for better communication and success for our students. The faculty and staff of our pharmacy program genuinely care about you and want you to succeed."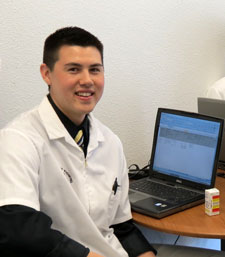 "Student organizations have provided me with the opportunity to strengthen my leadership experience, utilize my skills and knowledge of pharmacy to provide health and wellness to the Laramie community through various events as well as promote the profession of pharmacy."