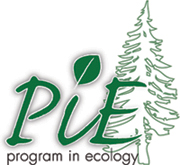 ecology@uwyo.edu
307-766-6240
Program in Ecology
Distinguished Ecologist Speaker Series
"Changing the Conservation Paradigm"
John Wiens, Chief Conservation Science Officer
PRBO Conservation Science
Friday, April 15 at 3:30pm, Berry Center 138
Reception at 3:00pm, Berry Center Lobby
Hosted by the Program in Ecology
Available on WyoCast live and after the presentation.  Click here to access the recording.
 

Seminar Description: 
The approaches to conservation and resource management that have served us well in the past will be inadequate in a rapidly changing future, so we need something else. John will offer some thoughts on what that 'something else' might be.
This seminar will be recorded on WyoCast for remote and delayed viewing.  To access watch the talk live or access the recording after John's presentation, click here.
About John Wiens:
John Wiens grew up in Oklahoma as an avid birdwatcher. Following degrees from the University of Oklahoma and the University of Wisconsin-Madison (M.S., Ph.D.), he joined the faculty of Oregon State University and, subsequently, the University of New Mexico and Colorado State University, where he was a Professor of Ecology and University Distinguished Professor. His work has emphasized landscape ecology and the ecology of birds, leading to over 200 scientific papers and 7 books.
John left academia in 2002 to join The Nature Conservancy as Lead Scientist. In 2008, he joined PRBO Conservation Science as Chief Conservation Science Office, and in 2010 he added an affiliation with the University of Western Australia as a Visiting Faculty in the School of Plant Biology. His current focus is on conservation in a rapidly changing world - "conservation futures."
About PRBO Conservation Science:
PRBO Conservation Science (PRBO) is a non-profit organization founded in 1965 as Point Reyes Bird Observatory.  The organization is dedicated to conserving birds, other wildlife and ecosystems through innovative scientific research and outreach.   PRBO does bird ecology research, creates management tools, leads field science training programs, and develops and delivers bird science education programs to advance biodiversity conservation in the west on land and at sea. PRBO scientists study birds because they are excellent indicators of environmental health: they are top predators, relatively inexpensive to monitor and widely distributed.