Applying to UW Program in Ecology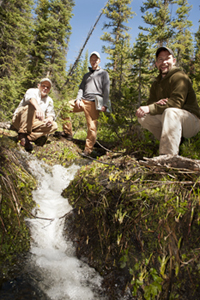 Program in Ecology (PiE) is a program, not a department; therefore, all PiE students must apply to a home department (Zoology, Ecosystem Science and Management, Plant Sciences, etc.) in conjunction with apply to PiE.  The home department is the one in which the student's advisor is housed.  Application steps include:
Step 1.  Identify a faculty advisor
You will first need to identify a faculty member to work with, and begin communication with that person.  He/she will guide you through the application process.  This contact is typically made in the fall, though many successful contacts have been made in January and February.
This step is critical.  You MUST have a faculty member's consent in order to apply to the program.
Step 2.  Apply to the University of Wyoming

Suggested deadline for fall entry: January 31 (this is not a firm deadline, but will allow students opportunities for early consideration benefits such as signing bonuses, start-up funds, campus visits, etc.  We continue to accept applications on a rolling basis.)
The formal application process are done entirely online, with one exception.  Students applying to the Department of Zoology and Physiology are reviewed off-line first (ask your potential advisor for more details).
All other applicants must complete an online application found here.  In the Program section, select the department to which your potential advisor belongs.  You are also required to identify the faculty advisor you are applying to work with.  You will upload required documents (letter of interest, CV, transcripts, etc.) and you will pay a $50 application fee. 
Step 3.  Email PiE with letter of interest
You are required to submit a letter of interest to the Program in Ecology (it must specify explicitly why you would like to be considered for PiE) immediate after completing your online application. Letters must identify the faculty advisor you are applying to work with.  Email letters to ecology@uwyo.edu. 
Application Materials
In order for your application to be complete, you must have submitted the following items to the following locations:
Letter of interest (email to ecology@uwyo.edu)
CV (online)
Transcripts of all previous post-secondary schools (online)
Three letters of recommendation (online)
Additional Questions
Please thoroughly review the Frequently Asked Questions page if you have additional questions.  Any additional questions should be directed to PiE Program Coordinator Debbie Swierczek (dswiz@uwyo.edu or 307-766-4128).
Save
Save
Save
Save