Ecology-related Seminars and Events
Want to receive weekly emails with this list?  Email brenna.marsicek@uwyo.edu to be added.
September 2-5, 2014
Indoor Vertical Dance and Musical Performances
     Thursday, Sept. 4, 5:00 pm, Berry Center lobby
     Hosted by the UW Biodiversity Institute
"Conservation Agriculture in Rain-Fed Small Holder Farming Systems in Western Kenya and Western Nebraska: Crop Productivity, Soil Nutrient Cycling and Greenhouse Gas Fluxes," Judith Odhiambo, Plant Sciences PhD Student
     Friday, Sept. 5, 1:00 pm, Ag 4041
     Plant Sciences PhD Defense
Save the Date:
Ed Scholes, Cornell Lab of Ornithology - Friday, September 12
     12:10 pm - "Video analysis, specimen imaging and 3D modeling: New perspectives on courtship displays in a bird-of-paradise"
     7:00 pm - "Birds of Paradise: Revealing the world's most extraordinary birds"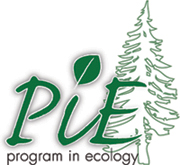 PiE Student-Invited Speaker: Bruce Patterson, The Field Museum - Thursday, September 18
     4:10 pm - "Sporadic isolation: the evolution of South American mammals"
     7:30 pm - "The Lions of Tsavo: manes, marauders and man-eaters"