Department of Plant Sciences
Dept. 3354
1000 E. University Ave.
Laramie, WY 82071
Phone: (307) 766-3103
Fax: (307)766-5549
Email:
plantsciences@uwyo.edu
Agroecology
Dr. Urszula Norton, Assistant Professor of Agroecology, conducts research in the areas of both basic and applied science, concentrating on questions formed to evaluate the impact of anthropogenic or chronic disturbances on ecological underpinnings of ecosystem resiliency and sustainability. I am interested in agroecological principles governing sustainable food production in time of diminishing natural resources and environmental change and the short and long-term consequences of climate variability on ecosystems services.
Forage Agronomy
Dr. M. Anowarul Islam, Assistant Professor of Forage Agroecology, offers modern and innovative research/extension programs on Forage Agronomy including: Germplasm research and evaluation for selection/cultivar development; Establishment and Best Management Practices (BMP) for profitable and sustainable forage and livestock production; Grazing management and integration with cropping systems; Establishment and incorporation of legumes into the grass systems; Alternative/multipurpose use of forages; Forage nutritive value and seed production.
Plant Biotechnology
Dr. Steve Herbert is an Associate Professor of Plant Sciences working in the areas of photosynthesis research and plant biotechnology. Photosynthesis is the ultimate source of nearly all the food and carbon-based materials used by humans. Dr. Herbert's fundamental research aims to understand the mechanisms by which plants, algae, and photosynthetic bacteria protect their photosynthetic systems from oxygen radicals and excessive sunlight. Dr. Herbert's applied research uses genetic modification to improve algae for more efficient production of foods, materials, and renewable biofuels.
Plant Breeding
Dr. Robin Groose, Associate Professor of Genetics, Agroecology and Plant Breeding, breeds legumes for adaptation and productivity in Wyoming. He has developed cultivars of alfalfa and annual medic. Current focus is on winter feed pea to be grown in rotation with wheat in dryland farming systems of the Central Great Plains. Genetically improved and locally-adapted pea varieties might contribute to more sustainable and profitable farming/ranching systems that integrate cereal and livestock production. New Wyoming-bred pea lines are now being increased for release as high-yielding, multiple-use pea cultivars that can be grown for livestock feed as either forage or grain. Groose is also developing winter-hardy food peas adapted to Wyoming.
Viticulture
Dr. Sadanand Dhekney leads the University of Wyoming viticulture program. His program utilizes techniques in breeding and biotechnology along with improved management practices for expanding grapevine production in Wyoming. Screening Vitis germplasm for yield, quality and cold-hardiness, and evaluation of production systems for seedless grape cultivars in high tunnels will be a major focus area. Additionally, the program will also incorporate recent advances in grapevine genomics and biotechnology for improving abiotic stress tolerance of elite cultivars and rootstocks.
Weed Management
Dr. Andrew Kniss, Assistant Professor, leads a research program focusing on sustainable weed management in agronomic crops, especially sugarbeet, winter wheat, corn, and dry beans.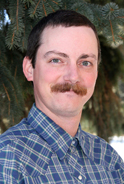 Weed Management
Dr. Brian Mealor, Assistant Professor and Extension Weed Specialist, leads an Extension, research and teaching program focused on: 1) investigating long-term impacts of non-native invasive weeds on native plant communities, 2) developing and improving management strategies to reduce the ecological and economic impacts of invasive weeds, and 3) understanding the inherent resilience of native populations to biological invasion.
Drought Tolerance
Dr. Jim Heitholt, Professor of Crop Physiology, expects to compare genotypes of dry bean and other crops for tolerance to water stress. Heitholt plans on conducting greenhouse studies where water availability can be closely controlled as well as field studies where fully irrigated crops are compared to crops receiving only 75% of full irrigation. Heitholt intends to work with breeders to establish segregating populations of dry bean and to measure agronomic traits and physiological variables that might improve selection efficiency as opposed to selection based on yield alone.
Share This Page: