Nutrition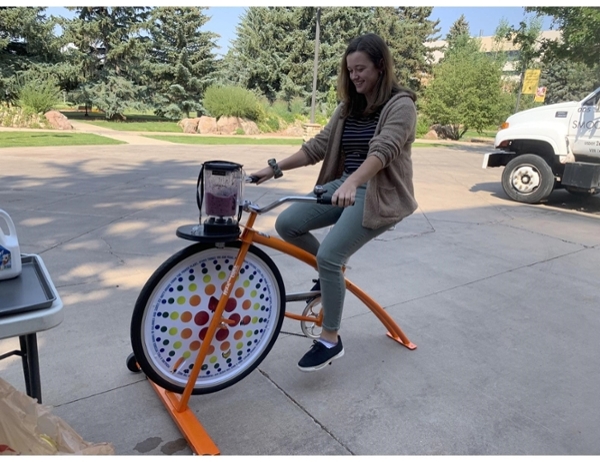 Our Mission
Promote healthy nutrition and lifestyles among students and provide an environment in which students can learn, grow, collaborate, and volunteer.
Our Programs
Free Fruit Fridays

The Wellness Center hosts Free Fruit Friday every single Friday of the Fall and Spring semesters. Come in and grab a free piece of fruit then head on your way! Fruit is provided by Washakie.

Smoothie Bike

The Smoothie Bike is a stationary bike with a blender attached in front of the handlebars. Pedal your way to a free and delicious fruit smoothie on the first Friday of every month (dairy and non-dairy options available). Join our Wellness Center Newsletter by scanning the QR code below to stay up to date on all our events and programs.

Nutrition Challenge

Offered at specific times in the Fall and Spring semesters, the Nutrition Challenge is a great way to find new recipes and get creative in the kitchen. Students are supplied with three different ingredients and must create and submit their own special recipe for a prize. Contact the Wellness Center for more information.

Weekly Recipes

Simple, cost-effective, and delicious recipes are sent out each week via the Wellness Center Newsletter. Check out our Instagram for a brief preview of each week's recipes!
Food Security at UW
Food Security in Laramie
Mission: To provide healthy and local foods, products, and services that promote a sustainable community.

Open every day: 8:00 a.m. - 8:00 p.m.
Nutrition and Education Resources