Saturday University
Saturday U is sponsored by the Wyoming Humanities Council, the University of Wyoming, and the University of Wyoming Foundation, joined by local supporters. In Jackson, these are Central Wyoming College, the National Museum of Wildlife Art, and the Teton County Library Foundation. In Gillette, these include Gillette College and the Campbell County Library.  In sheridan, this includes Sheridan College 
Each Saturday U term features lectures from three outstanding University of Wyoming professors. Following the lectures, all three professors will participate in a final roundtable discussion. Participants may attend one, two, three, or all four sessions. No registration is required, and there is no charge. Participants who attend all three terms are eligible to earn college credit from Central Wyoming College.
Upcoming Terms
Upcoming Terms in Jackson
Spring Term 2014 - March 8, 2014
Upcoming Terms in Gillette
Spring Term 2014 - March 29, 2014
Upcoming Terms in Sheridan
Winter Term 2014 - February 8, 2014
Summer Term 2014 - July 2013 (stay tuned for date)
Other Information 
Directions to Gillette College can be found here.
Follow us on FACEBOOK!
Please return to this website in the future for updates and additional information.
Share This Page:
Anne Alexander at Saturday U- Obamacare: The Sound and the Fury and the Economics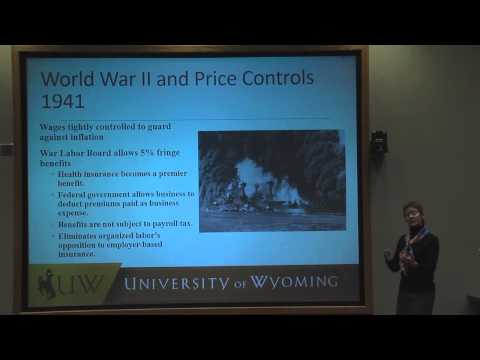 Anne Alexander, Director of International Programs at University of Wyoming presented her talk on the Affordable Care Act at Saturday U in Gilette on October 26, 2013 at the Gillette College Main Building Presentation Hall. The Patient Protection and Affordable Care Act, aka Obamacare, is coming into effect with lots of sound and fury. Dr. Alexander, a policy economist, explores what we know about its impact on health care costs, the uninsured, employers, the federal budget, and the economy. Does it get at the root of some of our most insidious health care system problems? How will this affect Wyoming?