Richard A. Horner
School of Energy Resources
Richard A. Horner, Director of Emerging Projects & Technology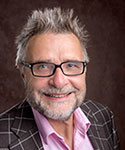 Richard joined UW in March 2014, as Engineering Tier-1 Program Coordinator, responsible for liaising with internal UW and external stakeholders - including the Wyoming Governor's Energy, Engineering, STEM Integration Task Force. Working with the Dean of the College of Engineering and Applied Science, Richard's activities involved strategy crafting and the delivery of plans to elevate the College of Engineering & Applied Science at UW into a world class premier center of learning in select areas of education and research that impacts the State of Wyoming.
In July 2015, Richard moved to the School of Energy resources to occupy the position of Deputy Director of Emerging Projects and Technology. One of the key initiatives that he is leading is the scoping and development of a distinguished carbon engineering and applied science research and technology development program. The focus of this endeavor is to investigate the conversion of coal into engineered products that command price premiums beyond the BTU value
Before joining UW, Richard was Technology Management consultant for Saudi Aramco - the National oil company of Saudi Arabia. As an advisor to Corporate Executives, General Managers and business leaders, he participated regularly in high level dialogues that focused upon research, technology and the future of energy. Before this, he was the first appointed Downstream and Strategic Research Director for Saudi Aramco.