Contact Pam Henderson at pamelah@uwyo.edu or call 307-766-6879 if you have questions about the Energy Summer Institute program.
School of Energy Resources
Dept. 3012
1000 E. University Avenue
Laramie, WY 82071
Phone: 307-766-6879
Fax: 307-766-6701
Email:
ser@uwyo.edu
Physical Location
1020 E. Lewis St.
Energy Innovation Center 330
Laramie, WY

Academics Office
Energy Innovation Center 338
Phone: 307-766-6879
Fax: 307-766-6701
Email:
seracad@uwyo.edu
Energy Summer Institute
Are you ready for an outstanding summer experience combining intellectual inquiry, recreation, and the opportunity to meet new friends - all within the dynamic environment of the University of Wyoming? The Energy Summer Institute is a one-week science camp  designed to fire your imagination related to the challenging energy problems facing the world.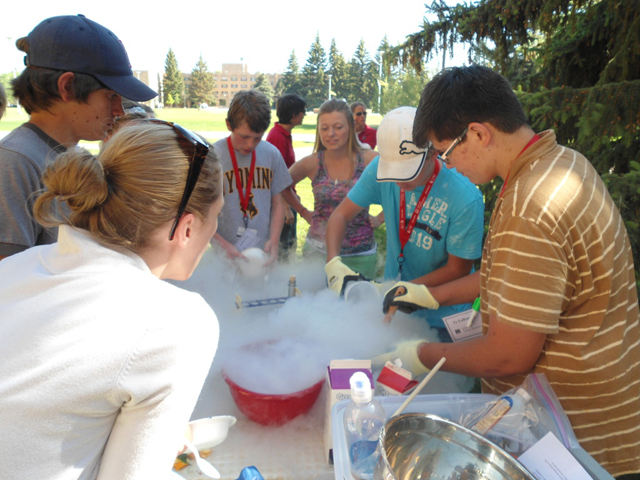 Take part in an exceptional summer program relating to the energy industry
Spend a week on the University of Wyoming campus
Learn in small, informal classes with no grades or tests
Study with Science Posse Fellows and the EE Nanotech Fellows
Enjoy an environment where you can be yourself and have fun!
Meet new people in a relaxed, university atmosphere
Develop new and long-lasting friendships
Dates
The 2014 program will be held June 15-20, 2014.  You can request to be added to our mailing list to learn when registration opens.
Who are the participants?
Students who are currently enrolled in 9th grade (freshman) or 10th grade (sophomore) in Spring 2014 are eligible to participate.
Who pays for the program?
Payment for room, board, instructional supplies, and field trips are paid for by the School of Energy Resources.  Students may wish to bring funds to support personal recreational activities, snacks, laundry, and other personal purchases.
What are the living and meal accommodations?
All Energy Summer Institute students live together in the UW residence halls.  Rooms are doubles and feature two beds and study desks, ample closet space, telephones, and laundry rooms.  There is also a hotel-style desk staffed 24 hours a day.
All participants eat in the Washakie Dining Center.  You receive three meals a day while on campus.  Included daily is a choice of nutritious entrees, low-fat and vegetarian selections, hot breakfast, salad bar, deli bar, fresh fruit, and a wide selection of desserts in a food-court atmosphere.
Menus
Washakie Menus are available through YourNutrition, an interactive tool for viewing menus and nutrient information.
What are the recreational activities?
Participants have access to UW athletic facilities, including the swimming pool, weight room, aerobics room, and tennis courts.
Share This Page:
Science Posse Fellows are teaching classes in this year's Energy Summer Institute.
Learn more about the EE Nanotech Fellows.