Speaker Series
Distinguished Speaker Series
The School of Energy Resources brings leaders in energy to campus to share cutting edge research, the latest industry trends, and expertise on new energy technologies through the Distinguished Speaker Series program. Join us for lunch on Fridays throughout the semester to learn more about important topics of the energy transition and how it impacts Wyoming and the world. 
Check the schedule below to find out more about upcoming Speaker Series events and lecture topics. 
The speaker series is hosted in the Energy Innovation Center Encana Auditorium, room 201. Lunch provided.
---
"Wyoming's Energy Strategy" 
Dr. Glen Murrell
Executive Director, Wyoming Energy Authority
September 17, 2021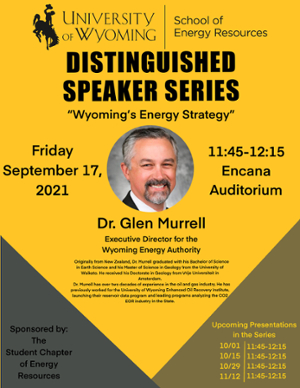 "The Energy Institute" 
Dr. Bryan Willson
Colorado State University Energy Institute
October 1, 2021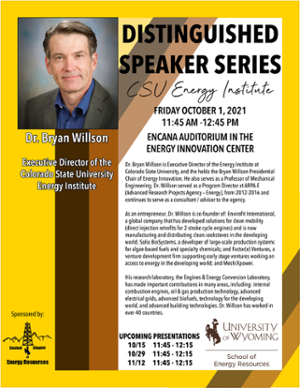 "The Center of Excellence for Produced Water Management" 
Dr. Jonathan Brant
University of Wyoming
October 15, 2021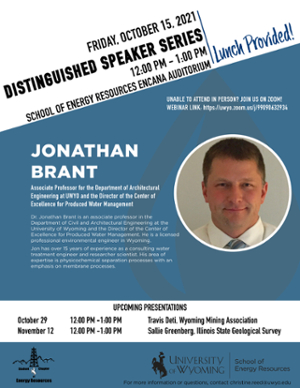 "The Wyoming Mining Association" 
Travis Deti
Executive Director, Wyoming Mining Association
October 29, 2021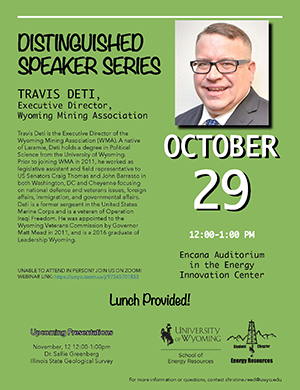 "Carbon Capture and Sequestration" 
Dr. Sallie Greenberg
Illinois State Geological Survey
November 12, 2021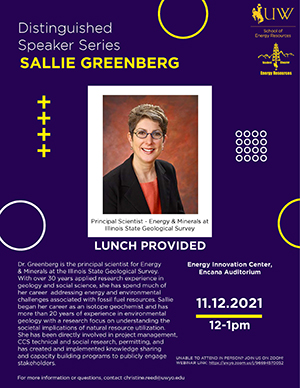 Contact Information 
Christine Reed
Director Outreach
School of Energy Resources
University of Wyoming
307-766-6708
christine.reed@uwyo.edu