Accept a New Year's Resolution Challenge
January 3, 2019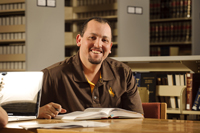 Improve your grades and develop skills by reading.
Start Off the New Year
By Pam Henderson, Academic Advising Manager
As we kick off 2019, our thoughts turn to the upcoming spring semester and the exciting opportunities that lie ahead. Many of us are looking at New Year's resolutions for self-improvement such as better grades. So what can we do to develop in the classroom and tie in in with a new resolution? Here is your challenge.
Have you thought about reading a book for your New Year's resolution?
I recently ran across an article on Lifehack about the benefits of reading. These include mental stimulation, expanding your vocabulary, better writing skills and stronger analytical thinking skills. What a great way to improve your grades - just by reading a book! You are also developing skills employers want for internships and jobs.
Visit your local library and find a book - any book - with a subject or story of interest to you. Read it to expand your horizons and meet your New Year's resolution.
Happy reading!