Maximize Your Handshake Profile
March 4, 2020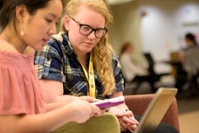 Visit the School of Energy Resources Advising and Career Center for help with your Handshake profile.
Handshake is a fantastic tool for employers to recruit you for internships and jobs. So be sure to make your Handshake profile stand out. Here are tips to help you build a professional summary.
Add an appropriate photo. Use a professional headshot if you have one. Otherwise have a friend take a photo in natural light with a neutral background.
Work and volunteer experience. Use active verbs and quantify experiences where possible. This is similar to your resume work experience section.
Organizations and extracurricular activities. Following the same guidelines as your work and volunteer experience, highlight your leadership and interpersonal skills you have gained through your organizational memberships.
Courses. List relevant coursework appropriate for the internship and/or job.
Projects. Consider including writing samples, publications, internship presentations, websites, and class projects. Be sure to disclose if a class project was a group effort.
Get To Know Me. Think of this as your introduction to a potential employer. Tell them who you are and why you are interested in your future career.
Skills. Select the skills demonstrated in your work, volunteer, and organizational experiences.
Documents. Upload a general resume. You will also upload your targeted resume and cover letter when applying for a specific internship or job.
Social links. Include your LinkedIn page and any other links highlighting your professional work. Do not include your personal social media pages.
Consider making your profile visible to employers. Employers have contacted School of Energy Resources students asking for an opportunity to visit with them about possible job opportunities because they opened their profile.
Stop by the School of Energy Resources Advising and Career Center or schedule an appointment for help with your resume, cover letter, or Handshake profile.