UW's SER Receives $500,000 Williams Contribution to Fund Hydrogen Energy Research Center
January 31, 2022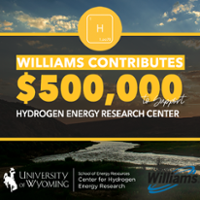 The University of Wyoming's School of Energy Resources (SER) received a $500,000 commitment from energy infrastructure leader Williams to help fund the school's Hydrogen Energy Research Center (H2ERC).
The gift will be spread over five years to support the new center dedicated to applied hydrogen research, collaboration with Wyoming stakeholders and the growth of a hydrogen industry in Wyoming.
"This generous gift is paramount to helping us launch our efforts on growing a robust applied research program focused on building a new industry in Wyoming," says SER Executive Director Holly Krutka. "This gift also demonstrates Williams' dedication to its employees and assets in Wyoming. This contribution, along with that already received from Anschutz, federal research grants and support from the state of Wyoming, will allow SER to officially stand up H2ERC by hiring its first dedicated research staff."
Williams is based in Tulsa, Okla.
"Williams is proud to play a leading role in this important step toward the research and development of a clean hydrogen economy in Wyoming and beyond," says Chad Zamarin, senior vice president of corporate strategic development at Williams. "As a longtime owner and operator of energy infrastructure in Wyoming, Williams is well positioned to leverage our existing assets for the blending, storage and transportation of green hydrogen to local and regional markets, including the Pacific Northwest via our Northwest Pipeline."
A member of the Clean Hydrogen Future Coalition, Williams is leading the way for clean hydrogen to exist in a low-carbon economy and is heavily invested in hydrogen development in Wyoming. In fall 2021, Williams was a Wyoming Energy Authority grant recipient as part of the Wyoming Hydrogen Pilot Project. The company is conducting a feasibility study to evaluate water access, compatibility and asset integrity in support of green hydrogen production. The study is being conducted in partnership with SER.
"SER is proud to have served with Williams on collaborative projects, and we are grateful to have Williams aid SER to expand hydrogen energy research," says Scott Quillinan, SER's senior director of research. "By supporting the new Hydrogen Center of Excellence at SER, Williams is helping to create one more resource dedicated to the advancement of a hydrogen industry focused on serving the state's existing energy customers and growing new markets."
For more information about H2ERC, or for those interested in supporting the center, email John Small, UW Foundation senior associate vice president for development, at john.small@uwyo.edu.