SER, Baker Hughes, WEA Collaborate on $5,000 'Decarbonization Prize' Contest for UW Students
February 7, 2022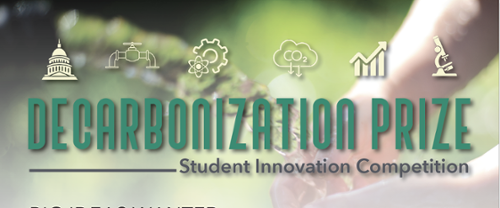 The University of Wyoming School of Energy Resources (SER), Baker Hughes and the Wyoming Energy Authority are collaborating to offer UW students an opportunity to introduce novel solutions in the decarbonization space through a $5,000 ideation innovation contest.
The "Decarbonization Prize" focuses on discovering innovative applications for existing products and services, or to introduce new concepts for innovative, transformative and disruptive technologies that will decarbonize various industries.
The goal of this year's competition is to accelerate the pace of technological development within the domain of hydrogen, making it a key factor in the energy transition.
"We want to create an inclusive event for all students from any discipline to spur innovative ideas from the brilliant minds of students," says Rob Klenner, senior energy transition and strategy leader for Baker Hughes. "We hope that, by incentivizing early-stage concepts through cross-collaboration from the next generation of thinkers, we will kick-start growth in this area."
The competition is open to all undergraduate and graduate-level UW students. Students in all disciplines and fields of study are encouraged to apply on collaborative teams. Each team must have at least two but no more than six students.
Prizes totaling $5,000 will be distributed among the top three teams. The winning team will receive $2,500; second place will be awarded $1,500; and the third-place team will receive $1,000. The winning teams and their projects will be featured on the SER website at the conclusion of the competition.
"We are excited to be working with Baker Hughes on this project," says Scott Quillinan, SER senior director of research. "This also is a great opportunity for UW students to showcase their talents and research abilities to potential employers."
Proposals under the Decarbonization Prize competition should focus on novel ideas to help improve the production, transportation, storage and use of hydrogen, according to the event's organizers.
Knowing that hydrogen's full potential will rely heavily upon existing technologies, proposals can include novel production methods; digitalization; use in existing industries; carbon management, including carbon capture and storage; improved monitoring and sensing techniques; go-to-market strategies; additive manufacturing; material science; education; or STEM (science, technology, engineering and mathematics) materials and outreach.
"There are a lot of other factors that play a part in overcoming challenges associated with the use of hydrogen in the energy transition, including economics, policy, infrastructure and even education," Klenner says. "It is our hope that students in this competition will learn more about alternative energy sources and also understand that they have the opportunity to be a part of the energy transition by being involved in this competition while getting their education."
Proposals are expected to be in the initial idea stage only. Applications containing proposals that have already been developed, prototyped or have had intellectual property protections filed will not be considered.
SER will host a virtual informational session Wednesday, March 2, at 3 p.m. Students interested in the informational session can email SER Outreach Director Christine Reed at christine.reed@uwyo.edu to access the link.
The application for the Decarbonization Prize competition closes at 5 p.m. April 1. Finalists will be announced in May.
Baker Hughes is a leading energy technology company serving multiple industries to make energy safer, cleaner and more efficient for people and the planet.
For more information about the competition, including application instructions, visit www.uwyo.edu/ser/events/competitions/baker-hughes-energy-comp.html.