Student Profile: Micah Brandt
March 11, 2022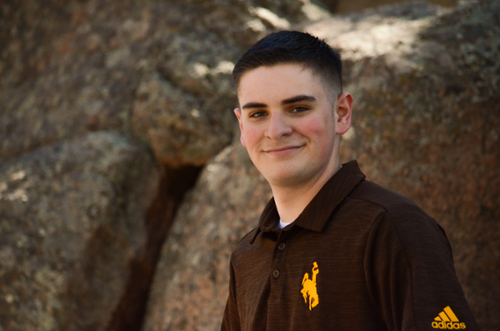 When Micah Brant was exploring different options for college, he stumbled upon the University of Wyoming School of Energy Resources (SER) and knew immediately it was the one. It satisfied every box on his list. Affordable? Check. Close to home? Check. Beautiful location with outdoor activities? Check. Rigorous academic program with robust career opportunities? Check.
Now a sophomore in the Professional Land Management (PLM) concentration of the Energy Resource Management and Development (ERMD) Bachelor of Science degree program, Brandt is more than pleased with his choice of degree program and is excelling in his studies.
"I chose the ERMD program because I knew I would enjoy learning about energy and it provides quite a bit of opportunity to be successful in a career," he says. "Not only that, it is a career path that will always be relevant and no matter what happens, I'll have skills that will let me survive and be successful."
A native of Denver, Colo., Brandt is also an active member of the Army ROTC Cowboy Battalion.  Working towards his degree while also devoting much of his time to military service has been both challenging and rewarding.
"Pursing my degree while also being a part of the ROTC is certainly a challenge," says Brandt. "I cannot always take the courses that I want if they conflict with training, but both programs have been very accommodating and set me up for success."
Brandt has also found that his energy education and military experience have been complementary to one another.
"Energy is a part of everything and features prominently in our national security so it has been insightful to understand more about its history and how it features in major political decisions," Brandt observes. "On a smaller scale, coursework in the ERMD degree program has related directly to my daily activities in the ROTC, such as the Geographic Information Systems (GIS) and remote sensing technologies that are used throughout the energy industry. They have also been helpful in understanding terrain features in the military."
In the PLM concentration, Brandt is exposed to many different disciplines including law, business, math, environmental science, history, and geopolitics. The program specifically trains graduates to determine mineral and surface ownership, prepare necessary reports, and serve as the public facing agent for mineral lease negotiations.
"The degree combines subjects that I really enjoyed learning about in high school and it has been nice that some of my interests are coming full circle," comments Brandt. "Now that I am a little further into the curriculum, I am excited by the prospect of a career as a land professional where I'll be able to continue to excel in my areas of interest."
He also feels that the program is providing him with on the job training, before he is on the job.
"In terms of hands-on experiences offered in the program such as running title or visits to the industry, it is just phenomenal," says Brandt. "We are prepared so much better to enter our careers and I'm grateful that I have the opportunity to learn critical skills while I am still a student. This program is a hidden gem – not many people know about it, but it provides you with many avenues for success in your life and it is an area that is going to be necessary no matter what happens."
Brandt's experience at UW in general has also been positive. Entering his freshman year at the peak of the pandemic, Brandt had to adapt to a virtual education, but was never deterred by the challenge. Now that courses have returned to some semblance of normalcy, he is continuing to achieve his goals and it is that determination to succeed that he ultimately wants to impart on others.
"I would say to other students, keep in mind that this is not a program that is meant to be easy, it is challenging, but remember everything you do leads up to your ultimate goal so treat everything with highest amount of diligence and get everything done because that is ultimately what will make you successful," he says.
As a growing program on campus, the ERMD degree offers a versatility that allows students to excel in multiple facets in their life, while allowing them to innovate and adapt at a pace akin with the rapidly changing modern world. Brandt is one of many students that have demonstrated the possibilities of all that can be achieved.
"ERMD is a major that can be paired with athletes, ROTC, honors, students working full-time, nontraditional students, first-generation students, and more," says SER academic director Kami Danaei. "Our interdisciplinary coursework can really set students up for a variety of fulfilling careers and is an excellent launching pad to post-college life. I would encourage students to seek out this hidden gem and consider their future in energy."