UW SER Offers Proposal Prep Grants, Graduate Student Stipends for Sponsored Nuclear Research
March 3, 2022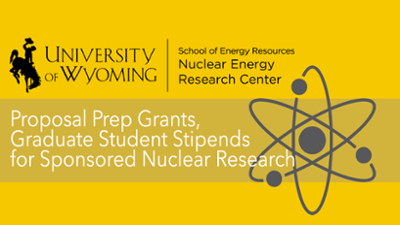 The Nuclear Energy Research Center (NERC) in the University of Wyoming's School of Energy Resources (SER) is seeking proposals from UW faculty members currently receiving or pursuing sponsored research for nuclear-related projects.
Physical and social science proposals are encouraged for two mini-grant opportunities related to faculty research. The purpose of the proposal prep grants is to provide summer salary to faculty members who have submitted competitive nuclear energy research proposals for direct funding from either a federal agency (preferred) or private foundation.
Selected UW faculty proposals will receive up to $4,000 for summer salary. The competitive grants are part of NERC's efforts to begin capacity building among the UW community. Multiple grants are available, and funding will be divided between social and physical proposals addressing technical and nontechnical challenges.
"We know that there are UW faculty members who are already engaged in nuclear energy research projects," says NERC co-Director Tara Righetti. "These grants will help us learn more about where our existing research strengths are on campus so that we can start to build connections among them to further encourage projects in the nuclear energy sector."
In addition to the faculty nuclear energy research proposal prep grants, NERC also is offering competitive nuclear energy summer augmentation grants to support graduate or professional-level students whose work or thesis preparation is focused on nuclear energy research.
The student opportunity allows funding for one full-time summer graduate assistant -- in master's, doctoral, MBA or law degree-level programs -- or for an hourly nonbenefited research assistant, plus up to $1,000 for student supplies or travel. The graduate students' advising faculty members must submit the proposal.
A recently created faculty-led center of excellence, NERC is focused on interdisciplinary nuclear energy capacity building across the UW community by connecting UW faculty and staff who are already active in research fields critical to the success of nuclear energy, and developing collaborative relationships both external and internal to UW.
Grant recipients will be selected based on their relevance to nuclear energy research and NERC's mission. Once proposals are received, a committee composed of SER staff and administrators will make the award selections.
"Energy development today requires research and collaboration across disciplines, yet social science research in these fields has traditionally been underfunded," Righetti says. "NERC is committed to equally addressing the human, social, economic, legal and political dimensions of nuclear energy."
To fully leverage the window for federally sponsored projects, the application deadline for both faculty and student funding opportunities is Thursday, March 31. Proposals submitted after the deadline will be considered on a rolling basis depending on remaining available funds.
To submit an application, email Christine Reed, SER outreach director, at christine.reed@uwyo.edu.
For more information on NERC or application guidelines, visit the NERC website here.