UW Researchers to Receive $800,000 From Department of Energy for Nuclear Environmental Justice Project
June 21, 2022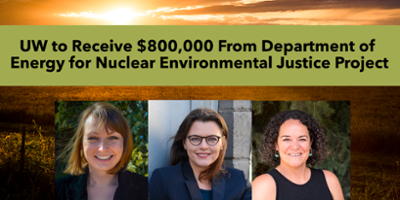 A University of Wyoming proposal has been selected to receive an $800,000 research award from the U.S. Department of Energy's (DOE) Nuclear Energy University Program (NEUP).
The agency announced that it was awarding more than $61 million for 74 nuclear energy projects across 40 U.S. universities to support nuclear technology development, infrastructure improvements and career opportunities.
The UW proposal, led by Assistant Professor Rachael Budowle in the Haub School of Environment and Natural Resources, will focus on applied community-based environmental justice research with community members, environmental organizations, developers and other stakeholders in Wyoming. Specifically, the proposal seeks to provide an adaptable justice-based, community-engaged process for emerging and advanced nuclear energy technology siting.
This project comes amid TerraPower's and PacifiCorp's plan to site a Natrium advanced nuclear reactor demonstration project at a retiring coal-fired plant near Kemmerer, making it an ideal case study as the first technology of its kind in the U.S.
"We are so excited to receive this award -- the first-ever DOE NEUP funding that centers environmental justice research, which will directly engage Wyoming communities and stakeholders," Budowle says. "We also appreciate TerraPower's willingness to participate in this project and support these community engagement processes. This research provides a unique transdisciplinary approach to those processes, combining social science, humanities, law and policy, nuclear engineering and community expertise."
Collaborating UW faculty members on the project include Tara Righetti, School of Energy Resources (SER) professor of law and Nuclear Energy Research Center (NERC) co-director; Haub School Professor Steve Smutko and Associate Professor Temple Stoellinger; and Matthew Henry, an Honors College assistant instructional professor. Additionally, Assistant Research Scientist Denia Djokić and Assistant Professor Aditi Verma, at the University of Michigan Nuclear Engineering & Radiological Sciences Department and the Fastest Path to Zero Initiative, will collaborate on the project.
A cultural anthropologist, Budowle joined the Haub School tenure-track faculty in 2019. Her research explores a range of social-ecological community resilience, sustainability, and justice and equity issues, primarily through interdisciplinary research projects within communities in Wyoming and the Mountain West.
Budowle's research on environmental justice is at the forefront of discussions in emerging energy technologies and coincides with DOE's Justice 40 Initiative, dedicated to the inclusion and support of disadvantaged communities as the nation moves toward a new energy mix.
"We commend DOE, and more specifically the Nuclear Reactor Innovation Center, for soliciting and supporting this kind of research and practice, through which we aim to explore a range of environmental justice questions," Budowle says.
These questions include: Who has -- or should have -- a voice in advanced nuclear energy facility siting and development decisions? What are the emerging livability needs for small energy transition communities such as Kemmerer, which will experience a massive influx of engineers during the development process? What is the range of energy futures these communities want and need, including but not limited to nuclear technologies? At what points throughout the design and development process can decision-makers incorporate environmental justice considerations? What are the responsibilities to nearby Native American communities that have historically experienced injustices from the nuclear fuel cycle?
The writing of this proposal was supported, in part, by SER's NERC and builds on advanced nuclear energy siting community appropriateness concepts developed in the Emerging Energy Markets Analysis Initiative (EMA). EMA is a collaboration among UW, Idaho National Laboratory, the University of Michigan, the Massachusetts Institute of Technology, the University of Alaska and Boise State University.
In addition to the UW-led proposal, Righetti and Stoellinger are part of a second University of Wisconsin-Madison-led collaborative study. That project will provide a comprehensive assessment of the challenges and opportunities of open architecture for advanced reactors and examine its potential to reduce the costs of those reactors.
"I'm thrilled that both of UW's NEUP proposals were selected for funding," Righetti says. "These awards will strengthen partnerships between UW and some of the nation's top nuclear engineering programs, including Wisconsin, Michigan and Berkeley, and continue building Wyoming's capacity for community engagement, environmental justice and regulatory research."
Both awards were made in the NEUP Reactor Concepts Research and Development and Demonstration category and will make considerable contributions toward the national goal of achieving net-zero emissions by 2050 and expanding access to nuclear energy.