The School of Energy Resources Welcomes Attorney Madeleine Lewis to Research Team
September 21, 2022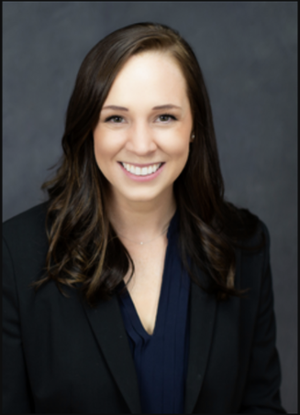 The School of Energy Resources (SER) is pleased to welcome Madeleine Lewis to the research team. A licensed attorney in Wyoming, Lewis will serve as a policy research scientist to both the Center for Economic Geology Research (CEGR) and the Center for Energy Regulation and Policy Analysis (CERPA).
In her new role, Lewis will conduct policy research and public outreach under the auspices of the Department of Energy (DOE) funded Plains CO2 Reduction (PCOR) Partnership alongside CEGR Program Manager, Erin Phillips, and Research Scientist, Selena Gerace.
Lewis will also provide analytical support on energy-related social science topics as they related to ongoing research projects within SER, CEGR, and CERPA. She will work closely with stakeholders, collaborators, and industry partners on applied energy studies at the local, state, national, and international levels.
"I am very excited to take on this new role where I am able to dive into areas of interest that I am very passionate about while also utilizing my background and skills," says Lewis. "The research currently underway at the School of Energy Resources spans across existing and developing energy technologies, and policy will play a defining role in the how those technologies evolve and are regulated into the future. I am so excited to help guide regulatory changes that have the potential to profoundly alter the framework of the U.S. energy system."
A native of Cheyenne, Lewis attended Carleton College in Northfield, Minn. for her undergraduate degree where she graduated cum laude with degrees in sociology and anthropology before attending the University of Wyoming for her postgraduate education. She earned her M.A. in Environment and Natural Resources from the UW Haub School of Environment and Natural Resources concurrently while earning her law degree from the UW College of Law. While in law school, she was honored as the 2018/2019 Salt Creek Energy Excellence Scholar in recognition for her academic achievement and a commitment to the study and practice of energy law.
Following graduation, Lewis clerked for the Honorable Nancy Freudenthal in the United States District Court for the District of Wyoming before joining the regionally based law firm, Crowley Fleck PLLP. While in private practice, Lewis primarily focused on oil and gas litigation, title work, as well as commercial litigation, estate administration and estate planning.
A skilled writer and researcher, Lewis has worked on energy-related issues including carbon capture, utilization, and storage (CCUS), oil and gas leasing, and enhanced oil recovery (EOR) through grant-funded initiatives, and has published a peer-reviewed article in The Environmental Law Reporter, a prominent environmental law journal, for her work on carbon dioxide pipeline transportation.
"We are so fortunate to have someone of Maddie's caliber and skillset on staff," says Phillips. "Policy and outreach are crucial components in driving the success of our research endeavors, and having Maddie here to help address some of the challenges and impacts inherent in the changing energy landscape is invaluable."