UW Staff Senate
Merica Hall, Room 102
Dept. 3413
1000 E. University Ave.
Laramie, WY 82071
Phone: (307) 766-5300
Email:
staffsen@uwyo.edu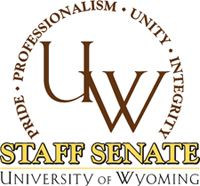 Join Staff Senate! Be Informed! Inform Others!
Staff Senate currently has open seats in the following Divisions:
Academic Affairs
Administration
Government, Community & Legal Affairs
Institutional Advancement
Office of the President\Athletics
Research & Economic Development
Student Affairs
Other Divisions are currently full but if you are interested in serving, you may do so in the capacity of a Senator-at-large.
Eligible employees are those staff members that are benefited, have been employed at UW for at least one year and work at least 20 hours per week.
Click here for more information about serving. If you have questions, email us at staffsen@uwyo.edu, call 766-5300, or visit our office in Wyo Hall 225, 8-12 Monday through Friday.