UW Staff Senate
Wyoming Hall, Room 225
Dept. 3413
1000 E. University Ave.
Laramie, WY 82071
Phone: (307) 766-5300
Email:
staffsen@uwyo.edu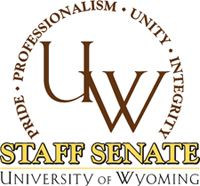 Years of Service 2014
Staff Senate has recently compiled the Years of Service List for the 2014 Staff Recognition Day.  If you see errors on or omissions from this list, please contact Vince Bath, Recognition Committee Chair, at VBath@uwyo.edu or at 766-5707, preferably by January 15, 2014.

The following UW employees will be honored for their Years of Service to the university at Staff Recognition Day on April 16, 2014:

5 YEARS
Armijo, Timothy M.
Asay, Carlinda Lei
Becker, Julie A.
Bell, Beverly J.
Bell, Hannah D.
Beman, Stacy A.
Bernaski, Joel Leonard
Blough, Amber Marie
Bluemel, David R
Burnett, Drenaena R.
Campbell, John P.
Carroll, Joshua L.
Christensen, Kelcey W.
Coulter, Matthew R.
Craft, Nance Jean
Dauer, Vincent J.
Day, Neil M.
DeCora, Kelli N.
Edwards, Alexis Nadine
Ettleman, Wade W.
Gadlin, Jack MIlton
Gerharter, Tonya Renee
Gomez, Francisco V
Grosinger, Matthew Mark
Hanna, Mark David
Haworth, Kayle Merl
Hays, Andrew Stephen
Hedrick, Jennifer Christine Nei
Helser, Charles A.
Helvie, Brandon Lynn
Hendrickson, Matthew John
Henson, Ruth Ann
Herring, Holly Marie
Jones, Clark C.
Jonker, Madeline Emiko
Kelley, Cherie L.
Kelly, Amy Elizabeth
Kelsey, Heidi R.
Klawitter, Kevin Wayne
Knaub, Joell Mae
Linse, Tamara Thalia
Love, George T
Luke, Sarah Jo Campbell
Lytle, Lynda
Macdonald, Chandelle Joan
Masters, Mark Dean
McFadden, Crystal Dawn
McGee, Nancy Irene
Messersmith, Matthew J.
Miller, Melinda Malia
Monahan, Meghan R.
Moore, Jason Wayne
Novy, Christine Lynn
Nutter, Ashlynne Kayleigh
Olson, Justin Josiah
Olson, Michael David
Otte, Shawna D.
Pacheco, Misty A.
Palmer, Jama Leigh
Patterson, Heather Jennifer
Perrotti, Mary Elana
Rapp, Farrell Jean
Renneisen, Janet Marie
Ruiz, Sheila DEE
Schlup, Cecilia R.
Seals, Casey P.
Sholty, Matthew Robinson
Slater, Benjamin Quill
Smith, Thomas L.
Sprague, Kassandra Ricks
Stone, Charles Barton
Thein, James L
Trabing, James William
Uhl, Ronald D.
Uhl, William Rodney
Van Buren, Stefanie Tegan
Van Der Vliet, Bernadette Maria
Vessely, Michael J.
Walker, David A.
Wang, Baolin
Ware, Tammy Lynn
Whitmer, Dylan R.
Willford, John D.
Wolff, Steven J.
Yates, Clark O.
10 YEARS
Almendares,Maria E.
Appelhans,Aaron K
Barry,Cody Scott
Bernaski,Cindy K.
Bury,Shauna Anne
Chapa,Sara L.
Clymer,Jeremy R.
Decker,Joshua S
Dockter,Dean L.
Durr,Chad Lee
Epler,Diane K.
Godwin,Jeremy Ray
Hall,Reginald D
Hayden,Robert Jacob
Heck,Yu Jie
Herman,Carolyn J.
Hoos,Seth Stephen
Hornor,Nathan T.
Huber Le Jambre,Jamie Lynn
Huntington,George S.
Hutsell,Marvin E.
Janzen,Brandon Lloyd
Jenkin,John Edward
Johnston Jr,John A
Jones,Chloe Marie
Kanaly,Shirley Ann
Lang,Jeffrey R.
Meeks,Matthew J.
Mnaibei,Julia C
O'Brien,Amanda Beth
Parks,Patrick R.
Pearce,Jayne Marie
Powles,Larry Alan
Schneider,Stephanie A
Schneidervin,Scott J.
Schroeder,Rebecca Ann
Schultz,Daniel Emmett
Scott,Tod R.
Sisneros,Rachael M.
Sprague,Fawn D
Sprague,Ryan W
Steele-Hicks,Lora Meshell
Szabady,Adrienne F
Teague,Dennis W.
Trujillo,Evelyn Marie
Uncapher,Robert C.
Vance,Brenda Rae
Vaske,Craig D.
Zuniga,Bonifacio    
15 YEARS  
Abbas,Vincent R.
Anatchkova,Bistra B.
Baker,Peggy Annette
Becker,Marnie Jane
Bernaski,Paul R.
Brown,Cathy L
Bunning,Shawn A
Cowardin,Avery B.
George,Jordan Steven
Gerhart,Diane Ruth
Gonzales,Demetrio Irving
Johnson,Elizabeth J.
Jones,George P.
Lange,David Bruce
Lorenz,Michelle Oliva Delapp
Lundmark,Woody C
MacMillan,Pamela Anne
Malloy,Jill Marie
Marsh,Janet L.
May,Brad A
Milliken,Betty Ann
Oliver,Christy Michelle
Olsen,Wayne Arlee
Olson,Nancy Eleanor
Osborn,James Dale
Rogers,Rodney D.
Sanchez,Rachel M.
Scheidemantel,Scott F
Scott,Tammy Lynn
Smoot,Kristen Kay  
20 YEARS
Bandsma,Gale M.
Bergantino,Antony R.
Candelaria,Nicole Marget
Eastman,Patrick G.
Finnerty,William Thomas
Gable,Raymond T.
Gashler,Courtney Gerald
Gunnerson,Mark Richard
Henderson,Ernest W.
Henn, Elizabeth Ann
Jairell,Vicki L.
Marshall,Robert Stephen
Moen,Catherine Ann Worthington
Montez,James J.
Newland,Robin Lee
Ontiveroz,Milton D.
Prine,Linda L
Tupper,Charmaine Frances
Viola,Richard P.
Walker,Lonny J.  
25 YEARS
Barrows,Frank C.
Beck,Robert Daniel
Bobbitt,Joe P.
Bruce,Douglas B.
Courtney,Nancy R.
Cuthbertson,Susan M.
Gabriel,James M.
Haigler Cornish,Kelly Lynn
Kopp,Amy R.
Nachtman,Jerry J.
Nitter,John R.
Parrill,Viola A
Rottman,Tommy L.
Sheheen,Theresa Anne
Sherlock,Janell Marie
Sprinkle,Matthew D.
Stephenson,David C.
Stith,Tana G.
Varga,Wilma A.
Wilson,Janet C.  
30 YEARS
Brown,Sharon Lynn
Cardona,Dolores Saucedo
Earley,Donna
Faxon,Angela Lea
Gallegos,Manuel M.
Nottage,Mary E.
Powell,Barbara Jean
Rector,James Glenn
Valiukenas,Rimvyda Eleonora 

35 YEARS
Hamilton,Alice M.
Lucero,Theresa A.
Ownbey,Stephen Ray
Zubrod,Kathi Lou  

40 YEARS
Cook,Jacque L.
Lebsack,Jennifer J.
Osterman,Linda Gay