Being hungry for days on end is a feeling one never forgets. That's why Andrea Sanchez Walk, who graduated in May 2017 with her degree in molecular biology, makes it a priority to volunteer through her church and at the Laramie Soup Kitchen. There was a time when her parents didn't have enough to eat, and she doesn't want anyone else to have to endure that.

"My dad said they went a couple of months with just bread and water. He knows how hard it is to not be fed," she says. "I always kept that in the back of my mind."

Sanchez Walk emigrated from Peru with her parents at age 6. Learning English in elementary school in Rock Springs, Wyo., she soon became her parents' interpreter and helped them start a cleaning business to make ends meet.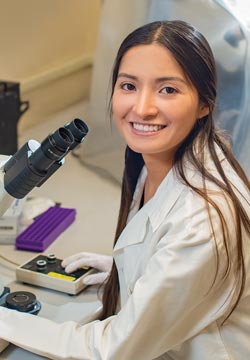 Student Andrea Sanchez Walk participated in undergraduate research at UW.
"I had to take care of my brother, too. Both of my parents worked really hard, so I hardly ever saw them," she remembers. "It was hard but definitely worth it. I am blessed and thankful that my parents came to the United States. I was privileged to be raised in Wyoming—such a wonderful state that exposed me to many great experiences. I think I earned the honor to call myself an American because the United States helped me become what I am today."

Sanchez Walk always dreamed of going to college, but money was tight. "I didn't think I was able to go to college because of the circumstances I was in," she says.

Still, she gave it a shot. Her freshman year at Western Wyoming Community College, she paid her own way by helping her parents with their cleaning business while getting her foot in the door doing undergraduate research.

"The first day of my undergrad career, I knocked on the door of a professor who does research and said I wanted to join the lab," she says. "I volunteered at first and learned a lot from it."

Professor Bud Chew's team allowed Sanchez Walk to join its study looking at iron deficiency and how it affects heart function in rats. She soon proved her worth, and by her sophomore year, she was the student research leader. Chew also helped her secure student research funding through INBRE (IDeA Networks for Biomedical Research Excellence) to help pay her tuition as the team continued to study heart function in rats, this time looking at protein expression.

Completing her associate of science degree, Sanchez Walk was named the student of the year out of all seven of Wyoming's community colleges and transferred to the University of Wyoming in the fall of 2015 as an INBRE Transition Fellow.

"At UW, I studied on sheep hearts, which are larger and more representative of a human heart," Sanchez Walk says of her research with Assistant Professor Wei Guo. The team works on many projects, but she focused on how an obesogenic diet (one that causes obesity) effects protein expression in the hearts of pregnant sheep and their fetuses.

Walk plans to attend medical school, possibly specializing in cardiology. At UW, she jumped into student life and is a member of the Institute for Healthcare Improvement, Alpha Epsilon Delta Health Preprofessional Honor Society and Women's Leadership Program. She hopes to inspire more Latinos to attend college.

"In general, you don't see a lot of Latinos on campus, so my goal is to be a role model for them," Sanchez Walk says. "I hope to see more of them applying to the university and excelling in their education. I want them to know that even when you don't have money or hope, you can do it."