Contact Information
Jessica Willford
Coordinator
307.766.4322
synergy@uwyo.edu

Dept 3334
Coe Library Room 219
1000 E University Ave
Laramie, WY 82071
Phone: 307.766.4322
Email:
synergy@uwyo.edu
Course Connections
During their first semester, students take three courses that are connected in readings, projects, and themes.  
| | | |
| --- | --- | --- |
| POLS 1000 | American and Wyoming Government | (lecture and exam) |
| ENGL 1010 | College Composition & Rhetoric | (reading and writing) |
| UWYO 1450 | Critical Reflection in Intellectual Communities | (writing and research) |

Students enroll in a fourth Synergy course their second semester, Introduction to Public Speaking (COJO 1010), which builds on themes and assignments begun in the first-semester Synergy courses.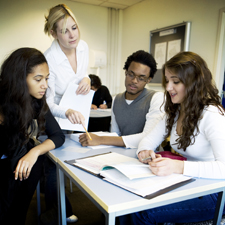 The composition, intellectual community, and public speaking courses work together to provide a focused writing-and-speaking cohort designed for maximum student-teacher interaction.  Enrollment for these courses is lower than enrollment in regular sections.  American and Wyoming Government (POLS 1000) is a large-enrollment course that introduces students to the expectations of university lecture and exam based courses.
Primary and Secondary Research
Students learn college research skills in all courses and learn field research strategies in the Intellectual Communities course.
Share This Page: