Contact
Jessica Willford
Coordinator
307.766.4322
synergy@uwyo.edu

Dept 3334
Coe Library Room 219
1000 E University Ave
Laramie, WY 82071
Phone: 307.766.4322
Email:
synergy@uwyo.edu
The Synergy learning community consists of designated sections of four University Studies courses.
In their first semester at UW, students enroll in ENGL, POLS, and UWYO courses.  In consultation with their advisor,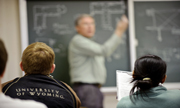 they also enroll in one or two other courses, with a maximum enrollment of 15 credit hours (per University Catalog, Part B).  In their second semester, students continue with Synergy by enrolling in designated sections of the COJO course. 
 
Students also meet with their university advisor on a regular basis throughout their first year.  The Synergy learning community fits well with the expectations and requirements of all majors on campus, and it also serves students who have not yet declared a major. 
Fall Courses
1. POLS 1000
Course title: American & Wyoming Government
Credit hours: 3
USP: This class fulfills the [V] University Studies Requirement
Instructor: Jacque Stonum
2. ENGL 1010
Course title: College Composition & Rhetoric
Credit hours: 3
USP: This class fulfills the [WA] University Studies Requirement
Instructors:  Pam Galbreath, Jason Kirkmeyer, Joyce Stewart, Michael Knievel, April Heaney, Quinnie Kenworthy
3. UWYO 1450
You will select one of these courses to take in the fall when your sign up for Orientation.  If you aren't able to attend Orientation, you will be contacted by the Synergy Coordinator, Jessica Willford, in July.  If you would like to sign up before July, please contact Jessica at 307.766.4322 or synergy@uwyo.edu.
Credit hours: 3
USP: This class fulfills the [I] and the [L] University Studies Requirement
Full Course Descriptions
UWYO 1450-01 - Critically Thinking About the Media and Our World   (this course is full)
Instructor: Mitzi Hettgar

UWYO 1450-02 - Exploring the Functions of Storytelling
Instructor: Megan Marshall

UWYO 1450-03 – Youth and Politics
Instructor: Nyla Bailey

UWYO 1450-04 - Images of a Continent, Old and New: Exploring African Cultures
Instructor: Gatua Wa Mbugwa

UWYO 1450-05 – Cultures of Work
Instructor: Rick Fisher

UWYO 1450-06 - Interpreting the Scientific World Around You
Instructor: John Willford

UWYO 1450-07 – Engineering A Career: Beyond Expectations
Instructor: David Reed

UWYO 1450-08 - Sports and the Science that Fuels It  (this course is full)
Instructor: Guinevere Jones


Spring Course
1. COJO 1010
Course title: Public Speaking
Credit hours: 3
USP: This class fulfills the [O] University Studies Requirement
Instructors: Justin Stewart, Mitzi Hettgar, Beau Bingham, Shalee Turner
Share This Page: