Dept. of Theatre and Dance
Dept. 3951
1000 E. University Avenue
Laramie, WY 82071
Phone: 307-766-2198
Fax: 307-766-2197
Email:
jchapman@uwyo.edu
BFA in Playwriting
The BFA in Playwriting is a highly selective program that trains committed and disciplined students in the art of playwriting. This BFA is a professionally oriented degree and is intended for students who desire to pursue an MFA in playwriting, screenwriting, creative writing, or pursue a career in writing.
Required courses for the BFA in Playwriting are listed here.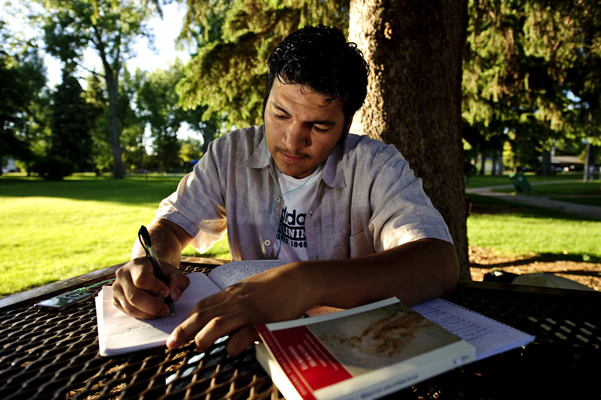 UW students have gained both regional and national recognition in playwriting. Not only does UW produce new student-written plays, but also UW playwrights have won numerous awards, including the national Mark Twain Prize for Comic Playwriting (twice), The David Cohen National Student Playwriting Award, and the National Student Written Musical Award.  Three times in the last five years UW playwrights have been chosen to have their 10-minute plays produced at the Kennedy Center. Twice in the last decade UW playwrights have won top honors at the Kennedy Center during the National ACTF Festival.
Plays written by UW playwrights have been published by Samuel French, Dramatists, and Kennedy Center for the Performing Arts "Best Student Written" play anthologies.   Graduates have gone to study playwriting and screenwriting at USC, UNLV, NYU, and many other top film and theatre schools. 
UW student playwrights take a wide range of classes and often see their work performed during the department's one-act play festival.
Admittance to the BFA in Playwriting is by audition only. There are two steps to the process. First, the student must submit a creative writing sample, either a play, screenplay, teleplay, novel, novella, musical, short story, or a series of poems. It is highly recommended that the writing sample include more than 15 pages.  Second, the head of the playwriting program will interview the student to assess his/her commitment to writing. To pass the audition, the student must show technical and creative proficiency in writing, and a desire to make writing his/her career. If a student fails to gain admittance, s/he may reapply the following semester.
Share This Page: