2011-2012 Eminent Artists-in-Residence Links
Dept. of Theatre and Dance
Dept. 3951
1000 E. University Avenue
Laramie, WY 82071
Phone: 307-766-2198
Fax: 307-766-2197
Email:
jchapman@uwyo.edu
BTJ/AZ Special Performance on October 5!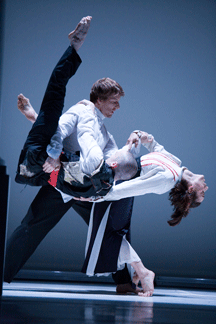 One of three works that grew from Bill T. Jones' interest in Abraham Lincoln, Serenade/The Proposition is described as his first attempt to grapple with issues of historical weight using the tools of dance and theater.
What results is a spirited and lyrical sixty-minute production that moves gracefully from images and texts of early America to contemporary ideas of identity and belonging described in the dancers' own words. What does history look like to someone born in 1981? How does his perception differ from someone born in 1954? Or 1881?
Questions of historical perspective are close at hand in the piece, balanced by inventive group movement and dynamic solos set on a stage of movable columns animated by video projection. 
Evoking the sounds and sentiments of Lincoln's era, the original live score draws from Mozart's Requiem, "Battle Hymn of the Republic" and "Dixie" to create a contemporary, playful musical collage for cello, piano and soprano.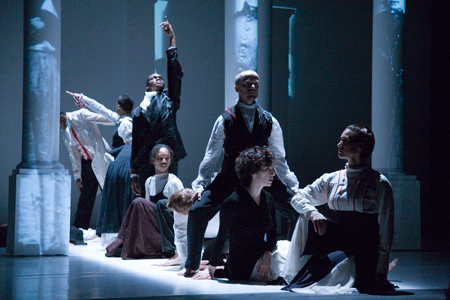 What critics are saying about Serenade/The Proposition:
"A lusciously intellectual dance-theatre probe into the nature of history."  - Lisa Jo Sagolla, Backstage
"The river of choreography by Jones, Wong, and the dancers features Jones' characteristically bold, juicy, unapologetically eclectic style..."  - Deborah Jowitt, The Village Voice
Credits:
Serenade/The Proposition has been commissioned by The Joyce Theater's Stephen and Cathy Weinroth Fund for New Work.  Additional commissioning support provided by Montclair State University.
Major support for Serenade/The Proposition is provided by the National Endowment for the Arts and American Express. 
The music for Serenade/The Proposition was commissioned by the American Music Center Live Music for Dance Program.
Bill T. Jones is an award-winning, multi-talented artist, choreographer, dancer, theater director, and writer. Jones has received numerous awards, ranging from a 1994 MacArthur "Genius" Award to Tony Awards for his choreography on Broadway. He was inducted into the American Academy of Arts & Sciences in 2009 and named "An Irreplaceable Dance Treasure" by the Dance Heritage Coalition in 2000.