Dept. of Theatre and Dance
Dept. 3951
1000 E. University Avenue
Laramie, WY 82071
Phone: 307-766-2198
Fax: 307-766-2197
Email:
jchapman@uwyo.edu
2016 Guest Artist Series
JANUARY 2016
Pablo Francisco Ruvalcaba

Pablo Francisco Ruvalcaba joins us for a two-week residency this January in which he will teach classes and reconstruct excerpts from the original Límon piece "The Winged."

A native of San Diego, California, and a graduate of The Julliard School, Mr. Ruvalcaba first joined the Límon Dance Company in 1996 where he was quickly cast in prominent roles dancing opposite Carla Maxwell in "Carlotta" and Nina Watt in "Orfeo," as well as featured solos in "The Winged," "Choreographic Offering," and "There Is A Time."

During his tenure with The Límon Company, Mr. Ruvalcaba originated roles by such noted guest choreographers as Doug Varone, Donald McKayle, Adam Hougland, Murray Louis, Lar Lubovitch, among others.  He has performed Jose Límon's roles in Límon Company revivals of "Missa Brevis," "The Traitor," "There is a Time," Lament For Ignatio Sanchez Mejias," and "The Moor's Pavana," as well as featured roles in commissioned reconstructions of Anna Sokolov's "Rooms," Antony Tudor's "Dark elegies," Pauline Kohner's "Poeme," Jiri Kylian's "La Cathedral Engloutie," and "Evening Song," among many others.  He has also lectures on the themes and choreographic works of Jose Límon, has been an invited artists at the Jacob's Pillow's production of "The Men Dancers: from The Horse's Mouth" and has recently guested as the Moor for American Ballet Theatre's production of "The Moor's Pavane."  He is also Co-Founding Director of The Higher Ground Festival of collaborative arts in Washington Heights/Inwood neighborhoods of New York City.  Mr. Ruvalcaba teaches the Límon technique and its repertory extensively nationally and internationally.
New York Dance Up Close: Limon Dance-Challenges of Repertory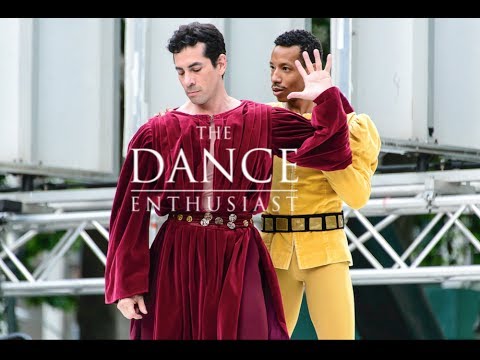 Principal Dancer, Francisco Ruvalcaba, shares the challenges and joys of dancing Jose Limon's Repertory as he prepares to dance with Limon Dance Company at the Joyce Theater.