Contact Us
Institutional Communications
Bureau of Mines Building, Room 137
Laramie
Laramie, WY 82071
Phone: (307) 766-2929
Email: cbaldwin@uwyo.edu
Rush Named Interim Dean of UW College of Education
May 15, 2020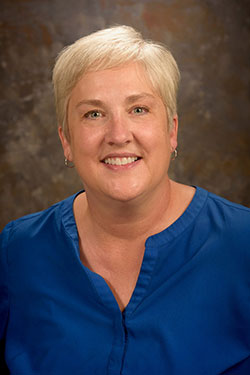 Leslie Rush
A longtime University of Wyoming College of Education faculty member and administrator has been named interim dean of the college.
Leslie Rush, an associate dean who has directed the college's School of Teacher Education since 2017, will take the reins July 1 from Dean Ray Reutzel, who is retiring after leading the college for the past five years. The UW Board of Trustees approved the appointment Thursday.
"The College of Education is in very capable hands with Dr. Rush until a national search can be conducted," Provost Kate Miller says. "She has been an anchor for the college and the university for many years, and we appreciate her willingness to serve in this important leadership role."
Rush received her B.S. in history and English from East Texas State University (1984); an M.Ed. in reading education from Texas A&M University (1996); and a Ph.D. in reading education from the University of Georgia (2002). She came to UW in 2002.
While serving as associate dean and director of the School of Teacher Education, she has taught courses in adolescent literacy, young adult literature and English/language arts pedagogy. She has published numerous books, book chapters and articles in refereed journals during her professional tenure.
In 2018, she and fellow authors of a book, titled "Secondary English Teacher Education in the United States," received the Richard A. Meade Award for Research in English Education from the English Language Arts Teacher Educators of the National Council of Teachers of English.
Her honors at UW have included the John P. Ellbogen Meritorious Classroom Teaching Award and the Promoting Intellectual Engagement in the First Year Award.
Contact Us
Institutional Communications
Bureau of Mines Building, Room 137
Laramie
Laramie, WY 82071
Phone: (307) 766-2929
Email: cbaldwin@uwyo.edu