Contact Us
Institutional Communications
Bureau of Mines Building, Room 137
Laramie
Laramie, WY 82071
Phone: (307) 766-2929
Email: cbaldwin@uwyo.edu
UWyo Magazine Features First-Ever Eat and Drink Theme
October 5, 2020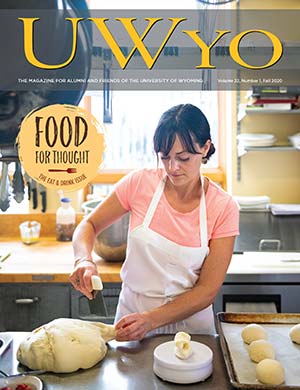 For the first time in the magazine's history, the fall 2020 issue of UWyo features an eat and drink theme -- "Food for Thought" -- celebrating the University of Wyoming's alumni chefs, winemakers and brewers.
"The restaurant industry has been particularly hard hit by the COVID-19 pandemic, making it the perfect time to highlight these hard-working and impressive individuals," says UWyo Editor Micaela Myers.
In addition to the alumni spotlights, the issue takes readers inside UW's specialty crop initiatives, including wine and table grapes; Peruvian popping beans; and the First-grains Project, cultivating a niche industry around emmer, spelt and einkorn as alternative crops. Also highlighted is the Wyoming Food Coalition, which helps small producers band together for a powerful collective voice that will lead to real solutions.
This issue of UWyo also introduces readers to campus chefs, Cowboy Branded Meats, athletic nutrition and the many flavors of campus.
"During a difficult time and an unusual semester, this edition of the magazine provides a positive look at UW alumni, students, faculty and staff members who are doing some amazing things in the area of food production and nutrition," says Chad Baldwin, UW's associate vice president for marketing and communications. "Readers will be both entertained and informed."
The fall issue also profiles new UW President Ed Seidel; outlines UW's efforts to support the state during the COVID-19 pandemic; celebrates the legacy of collaborative problem-solving pioneer William Ruckelshaus; and shares UW's innovative exchange program with Howard University: the Health Equity Leadership Program.
The fall issue of UWyo Magazine can be viewed at www.uwyo.edu/uwyo or via a digital magazine flipbook.
Contact Us
Institutional Communications
Bureau of Mines Building, Room 137
Laramie
Laramie, WY 82071
Phone: (307) 766-2929
Email: cbaldwin@uwyo.edu