Contact Us
Institutional Communications
Bureau of Mines Building, Room 137
Laramie
Laramie, WY 82071
Phone: (307) 766-2929
Email: cbaldwin@uwyo.edu
Professor Tracey Owens Patton to Give Sandeen Lecture at UW Dec. 13
December 6, 2021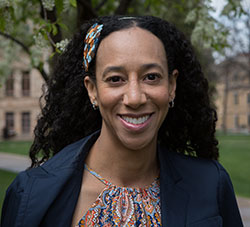 Tracey Owens Patton
Professor Tracey Owens Patton will present the annual Sandeen Lecture in the Humanities Monday, Dec. 13, at the University of Wyoming.
Owens Patton, a professor in the Department of Communication and Journalism, will discuss "Womb Wars: Mixed Race Children and Whiteness in the Post-Nazi Era" at 5:30 p.m. via Zoom. To view the lecture, go to https://us02web.zoom.us/j/82244432722. The lecture will be available to watch after the event on the Wyoming Institute for Humanities Research's YouTube channel.
For more information, visit the humanities research institute's Facebook event page. The lecture is only offered through Zoom, and there will not be an in-person component for the event, says Scott Henkel, the humanities research institute director.
"The Sandeen Lecture in the Humanities showcases the very best of humanities research by University of Wyoming faculty," Henkel says. "Dr. Patton's research is eye-opening and compelling, and it presents much-needed ideas about our histories, both personal and international."
Owens Patton's presentation is the follow-up to her UW President's Speaker Series talk held earlier this semester. In the president's lecture, Owens Patton centered the experiences of Black Germans and Black American and Puerto Rican GIs. That talk covered the time between the Crusades through post-World War II.
The Sandeen lecture picks up where Owens Patton left off, covering the same time period, centering the conversation on women and children, and what happens to them and their bodies during and after war. Her research on this topic -- in which she has produced a few book chapters and journal articles -- is a portion of an in-progress book that will be sent out for publisher review later this month. Owens Patton's interest in the subject stems from an unknown personal past.
"I am a mixed-race, first-generation U.S. citizen, and what I thought was going to be a unique personal story about international adoption turned out to place my mother and her twin right in the middle of international expulsion of German children born to white German women and Black American GIs post-World War II," says Owens Patton, who also is an adjunct professor in African American and Diaspora Studies in the School of Culture, Gender and Social Justice. "My grandmother used this racial purge as a vehicle to get rid of her own German children whose birth father's heritage vacillated from white to Black to Native American. This personal experience plunged me into a world that has guided my research agenda for the last decade as it relates to race, citizenship and family."
The Sandeen Lecture in the Humanities is named for Eric Sandeen, a former professor and chair of UW's American Studies Program, and the founding director and director emeritus of the humanities research institute.
The humanities research institute and the Wyoming Humanities Council co-sponsor the annual Sandeen lecture.
For more information about the lecture, email Henkel at scott.henkel@uwyo.edu or humanities@uwyo.edu.
Contact Us
Institutional Communications
Bureau of Mines Building, Room 137
Laramie
Laramie, WY 82071
Phone: (307) 766-2929
Email: cbaldwin@uwyo.edu