Contact Us
Institutional Communications
Bureau of Mines Building, Room 137
Laramie
Laramie, WY 82071
Phone: (307) 766-2929
Email: cbaldwin@uwyo.edu
UW Director of Education Abroad Shelley Jewell Selected as Gilman Advisor Ambassador
January 24, 2022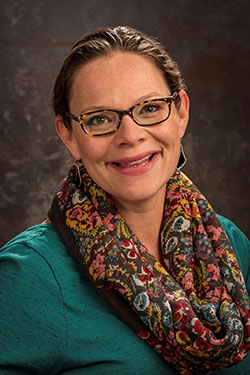 Shelley Jewell
Shelley Jewell, the education abroad director for the University of Wyoming's Global Engagement Office, has been selected by the U.S. Department of State's Bureau of Educational and Cultural Affairs (ECA) to serve as an inaugural Gilman Advisor Ambassador.
For the next two years, Jewell will promote the Benjamin A. Gilman International Scholarship Program that is offered at colleges and universities across the U.S. She will guide students in the application process, as well as advise program administrators on program policies and implementation.
"I feel honored to be a part of this inaugural cohort of Gilman Advisor Ambassadors," Jewell says. "It's a privilege to connect with other advisers and the higher education community to share the good work of the Gilman program."
Jewell has advised Gilman applicants for more than 10 years to provide study-abroad opportunities to Pell Grant recipients.
Since 2001, the Gilman program has awarded more than 34,000 scholarships to American undergraduate students of limited financial means from all 50 states, the District of Columbia and all U.S. territories. Gilman scholars reflect the rich diversity of the U.S. and have engaged with their peers, communities and host campuses in more than 155 countries.
Almost 70 percent of Gilman scholars self-identify as racial or ethnic minorities; nearly 50 percent as first-generation college students; and almost 60 percent come from rural communities and small towns across the U.S.
"I am thrilled that Shelley has been selected as an inaugural Gilman Advisor Ambassador," says Isadora Helfgott, UW's vice provost for global engagement. "Under her leadership, we have seen excellent success from students at UW in earning Gilman scholarships."
As part of the new initiative, 20 Gilman Advisor Ambassadors, who represent diverse institutions in 18 U.S. states and the District of Columbia, were selected from a pool of applicants. The inaugural cohort consists of professionals from study-abroad offices, financial services, honors colleges and other student services positions. The cohort members will receive training from the U.S. Department of State's Bureau of ECA and Gilman program staff.
Advisers will work together to offer higher education perspectives on the Gilman program, mentor new Gilman advisers and participate in national-level outreach efforts through other programs such as conferences and campus engagement.
"Shelley, serving as an ambassador, is both an opportunity for us to give back to the Gilman program and to learn how we can continue to extend this transformative opportunity among UW students," Helfgott says.
The program is funded by the U.S. government and supported by the Institute of International Education for its implementation.
For more information about ECA programs, initiatives and achievements, visit https://eca.state.gov/.
Contact Us
Institutional Communications
Bureau of Mines Building, Room 137
Laramie
Laramie, WY 82071
Phone: (307) 766-2929
Email: cbaldwin@uwyo.edu