Contact Us
Institutional Communications
Bureau of Mines Building, Room 137
Laramie
Laramie, WY 82071
Phone: (307) 766-2929
Email: cbaldwin@uwyo.edu
UW Rodeo Team Hosts JCA Bucking Horse Gala, Auction Feb. 12
February 7, 2022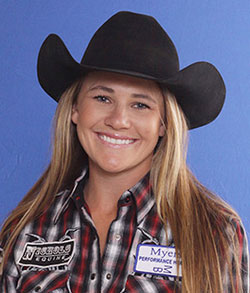 Nikki Steffes Hansen
Nikki Steffes Hansen, one of the greatest members of the University of Wyoming women's rodeo team, is the featured speaker of the third annual JCA Bucking Horse Gala Saturday, Feb. 12, at the Marian H. Rochelle Gateway Center.
The JCA Bucking Horse Gala is the UW rodeo program's top fundraising event of the season that features a dinner, speaker, and silent and online auctions. The dinner is sold out, but UW rodeo supporters can still contribute to the program, UW rodeo Coach Beau Clark says.
"For guests who are unable to attend in person this year, we do have an option that will allow them to support the UW rodeo student-athletes through an online bidding platform," Clark says. "One great aspect of this event is that the students are responsible for the majority of the auction items. They did an incredible job making items or asking people to support the UW program. It says a lot about our student-athletes who are willing to work for their program and give back to their college rodeo team."
UW rodeo supporters can register to bid at http://bidpal.net/wyorodeo by clicking on the "sign in" link in the top right corner or by texting WYORODEO to 243725 to automatically receive a link for directions to the event. After registering, supporters can begin to bid on all silent auction items beginning Thursday, Feb. 10.
For more information, or if supporters have issues connecting on the bidding process, call UW Assistant Coach Casey Reimler at (307) 299-0969.
Steffes Hansen, a 2010 molecular biology/medical microbiology graduate from Vale, S.D., is the UW Cowgirls' all-time individual scoring leader. She won two College National Finals Rodeo all-around titles; was the national goat tying runner-up twice; won five consecutive all-around women's titles in the Central Rocky Mountain Region (CRMR) from 2006-2010; captured five straight CRMR barrel racing titles; and four regional goat tying titles.
She has competed on the Women's Professional Rodeo Association circuit and has qualified for one National Finals Rodeo year-end event in Las Vegas, Nev. She and her husband and daughter currently reside in Dickinson, N.D.
For more information about the rodeo gala, email Clark at bclark25@uwyo.edu.
Contact Us
Institutional Communications
Bureau of Mines Building, Room 137
Laramie
Laramie, WY 82071
Phone: (307) 766-2929
Email: cbaldwin@uwyo.edu