Contact Us
Institutional Communications
Bureau of Mines Building, Room 137
Laramie
Laramie, WY 82071
Phone: (307) 766-2929
Email: cbaldwin@uwyo.edu
UW Music Faculty Recital Series Features Pianist Theresa Bogard March 6
March 1, 2022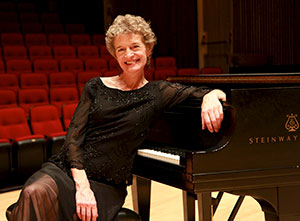 Theresa Bogard
University of Wyoming Professor Theresa Bogard will be the featured pianist for the Department of Music's Faculty Recital Series at 3 p.m. Sunday, March 6, in the Buchanan Center for the Performing Arts concert hall.
The recital, titled "Americanisms, Reflections of Our Musical Heritage," will highlight the musical influences of American idioms, such as spirituals, jazz, folk music, fiddle music and ragtime. The performance is free and open to the public. To livestream the event, visit www.youtube.com/watch?v=O_AaRvcITHw.
Featured piano works will be "Juba" by R. Nathaniel Dett; "Valley of the Bones" by Margaret Bonds; "Troubled Water" and "Four Piano Blues" by Aaron Copland; "Pastoral" by Nikolai Kapustin; "Embraceable You" and "I've Got Rhythm" by George Gershwin; "Excursions" by Samuel Barber; and "Graceful Ghost" and "Serpent's Kiss" by William Bolcom.
Bogard, a Steinway artist, is a versatile performer dedicated to expanding the canon of traditional piano repertoire. As a world traveler with a passion for other cultures, Bogard has performed on five continents. Her extensive discography includes recordings ranging from solo piano to chamber music collaborations, from music of living composers to her specialty in fortepiano and historical performance practice.
Bogard has served on the faculty of the InterHarmony International Music Festival in Italy and the Sulzbach-Rosenberg International Music Festival in Germany. She also has performed at Carnegie Hall's Weill Recital Hall and the Ravinia Steans Institute with cellist Misha Quint. She has given master classes and performances at several Brazilian universities. She will return later this year to Brazil for a recording of works for flute and piano by Brazilian composers.
Internationally known as a pedagogue, Bogard has been honored with numerous teaching awards. She attracts students from around the world as a piano professor at UW, where she served as chair of the UW Department of Music from 2010-16. She also has served as an adjudicator at numerous regional, national and international piano competitions.
In 2008, the Carnegie Foundation selected her as the Wyoming Professor of the Year. Her students have distinguished themselves in prestigious piano competitions and have been accepted into the top graduate and undergraduate programs in the country, such as the Cleveland Institute of Music, Eastman School of Music, Juilliard School, Manhattan School of Music, Oberlin College Conservatory of Music and Peabody Conservatory of Music.
For more information, call Kathy Kirkaldie, UW Fine Arts coordinator, at (307) 766-2160 or email kirisk@uwyo.edu.
Contact Us
Institutional Communications
Bureau of Mines Building, Room 137
Laramie
Laramie, WY 82071
Phone: (307) 766-2929
Email: cbaldwin@uwyo.edu