Contact Us
Institutional Communications
Bureau of Mines Building, Room 137
Laramie
Laramie, WY 82071
Phone: (307) 766-2929
Email: cbaldwin@uwyo.edu
UW Student Accepted to Prestigious Lit Camp Juried Writer's Conference
April 21, 2022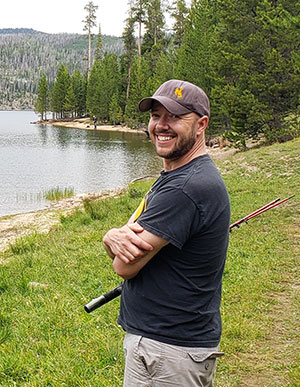 David Riedel
David Riedel, a University of Wyoming fall graduate in English from Bosler, has been accepted to the prestigious Lit Camp Juried Writer's Conference next month.
Founded in 2012, Lit Camp brings together award-winning authors, agents and publishers with a singular goal: "To help writers get their books out into the world." Each year, only 40 of the most talented and promising writers of fiction, memoir and narrative nonfiction are invited to participate in the literature camp at the Bell Valley Retreat Center in Mendocino County, Calif.
Riedel, who graduated from Rock River High School in 2004, submitted a personal story manuscript that he began as an undergraduate in Arielle Zibrak's first-person writing course. He later honed his work as part of his English honors thesis, supervised by former UW Associate Professor Caskey Russell and Eric Krszjzaniek, a UW management and marketing assistant lecturer. Riedel later won the Department of English's 2021 Torry Award for Best Thesis.
Riedel's work is centered on his father, Pat McGuire, and his past that is connected with the small community of Wyoming residents who believe in the existence of UFOs, and the people who were important to him.
"Using various family narratives and historical evidence, I try to capture the twists and turns of my father's strange life, and the aftermath of his passing in 2009," Riedel says. "What happened? What remains untold? What is left for those in the wake of his death? Those are the questions I try to answer in my work."
Zibrak, a UW Department of English associate professor and director of the English Honors Program, is the person Riedel credits for encouraging him to write. Being accepted into the prestigious literature camp is something he still cannot quite comprehend.
"It is funny, because I never aimed to apply to anything. When I graduated, I had no direction on where to go with my project. I was, to put it mildly, lost," Riedel says. "So, I did what any student would do: I raised my hand to ask for help. Dr. Zibrak, whom I cannot thank enough, provided the guidance, resources and confidence for me to apply to Lit Camp."
Riedel says he is nervous about being accepted into the program.
"But, after the nervousness settles, I truly cannot wait to soak in everything that Lit Camp has to offer: agents, publishers and, above all else, all of the authors who will be part of this year's faculty and attendees," Riedel adds.
He will return to UW this fall to begin his master's degree work within the UW Department of English.
Contact Us
Institutional Communications
Bureau of Mines Building, Room 137
Laramie
Laramie, WY 82071
Phone: (307) 766-2929
Email: cbaldwin@uwyo.edu