Alumni Interviews
College of Agriculture and Natural Resources
Stacia Berry
Hageman Law P.C. Cheyenne Wyoming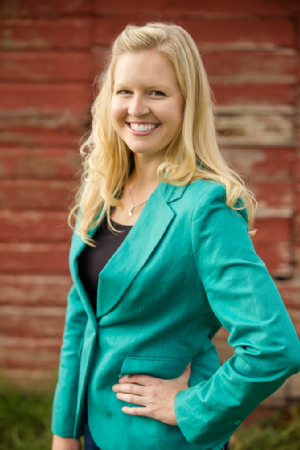 Success among former College of Agriculture and Natural Resources students continues even after graduation. Stacia Berry received her undergraduate degree from the University of Wyoming College of Agriculture and Natural Resources in 2008 with an Animal Science degree and options in Business and Communications. While Berry was attending UW, she stayed busy with extracurricular activities such as: freshman senate and ASUW senator for the college of Agriculture and Natural Resources for three years where she served as parliamentarian, a member and former president at Tri-Delta Sorority, the meat judging team, Block and Bridle, SPURS, Iron Skull and Mortar Board.
"Extracurricular involvement is imperative. Students have to be more than a product of the curriculum they receive in the classroom. Volunteering time, traveling the globe, interning for future employers- that is where learning truly takes shape", said Berry.
After attending Colorado State University for graduate school she received her Masters of Agriculture in 2009. It was after she realized how important it was to protect agriculture that she decided law school was in her future. She received her Juris Doctorate from the University Of Wyoming College Of Law in 2012. Hageman & Brighton P.C., a law firm in Cheyenne Wyoming, was a great place for Stacia to start. She interned with Harriet Hageman and Kara Brighton, and eventually became a full time lawyer at what is now called Hageman Law P.C. dealing with mostly water quality and quantity.
The College of Agriculture and Natural Resources is full of opportunities and scholarships for students that help them achieve their goals and be successful.
"The College of Agriculture scholarship program made it possible for me to achieve higher levels of learning because I was able to leave my undergraduate program debt free. I am forever grateful for the generosity of the donors that make the College of Agriculture Scholarship program possible", said Berry.
When asked what it took for her to get to where she is today, Berry said, "hard work, big goals and time management. I was the beneficiary of great mentors in the College of Agriculture that connected me with opportunities for success."
Berry plans to continue practicing law in Cheyenne and being involved in her community while learning and growing in her profession.