Graduate Assistant Teaching and Learning Symposium
& New Graduate Student Orientation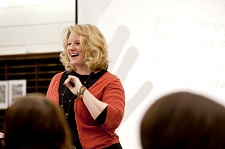 The Graduate Assistant Teaching and Learning Symposium is intended for graduate assistants with first-time teaching responsibilities.  Providing our GAs some keys to success in working with our students is critically important.  The symposium is designed to introduce GAs to effective ways of working with their students and dealing with issues they may face in the role of the teacher.   
In addition to information specific to GAs, the symposium will address topics of general interest to all graduate students including graduate student success, financial tips, and clearing administrative hurdles to graduation.
Registration
The Fall 2016 Symposium is scheduled for Tuesday, August 23.  Registration will be available at a later date.