DVM Student and Pathology Externships
The Department offers varied externship opportunities for DVM students and anatomic pathology residents interested in obtaining experience in diseases of food and companion animals. We offer a 10-week summer externship that provides experience in diagnostic veterinary medicine, and research for DVM students. Previous recipients have been supported through the Kelly Palm Memorial Externship fund, or the Kurt Swanson Bucholz Veterinary Science training fund through the UW foundation. These independent funds were established by family members in memory of Drs. Kelly Palm and Kurt Bucholz, respectively, who were both Wyoming veterinarians. Dr. Palm ran a mixed animal practice in Laramie. Dr. Bucholz was a large animal veterinarian who was interested in wildlife. He was also elected to a seat in the Wyoming State House of Representatives. 

In addition to the summer externship we offer other ad-hoc externship opportunities for pathology residents and DVM students interested in diagnostic veterinary medicine of domestic animals and wildlife.

These externship opportunities were established to expose students to diagnostic veterinary medicine in a state supported animal health laboratory. Major objectives are to acquaint the externs with:
Necropsy and microscopic pathology of diseases of domestic and wild animals found in Wyoming and the region

The full-range of diagnostic disciplines (e.g., microbiology, virology, toxicology, parasitology, clinical pathology, and serology) in establishing the basis of animal disease

Interaction with veterinary clients
The summer 10-week externship is a competitive, funded, 1-credit externship, with one student selected annually for a 10 week period. In addition to the above diagnostic experience, the student completes a short research project focused on diseases of livestock or companion animals.


---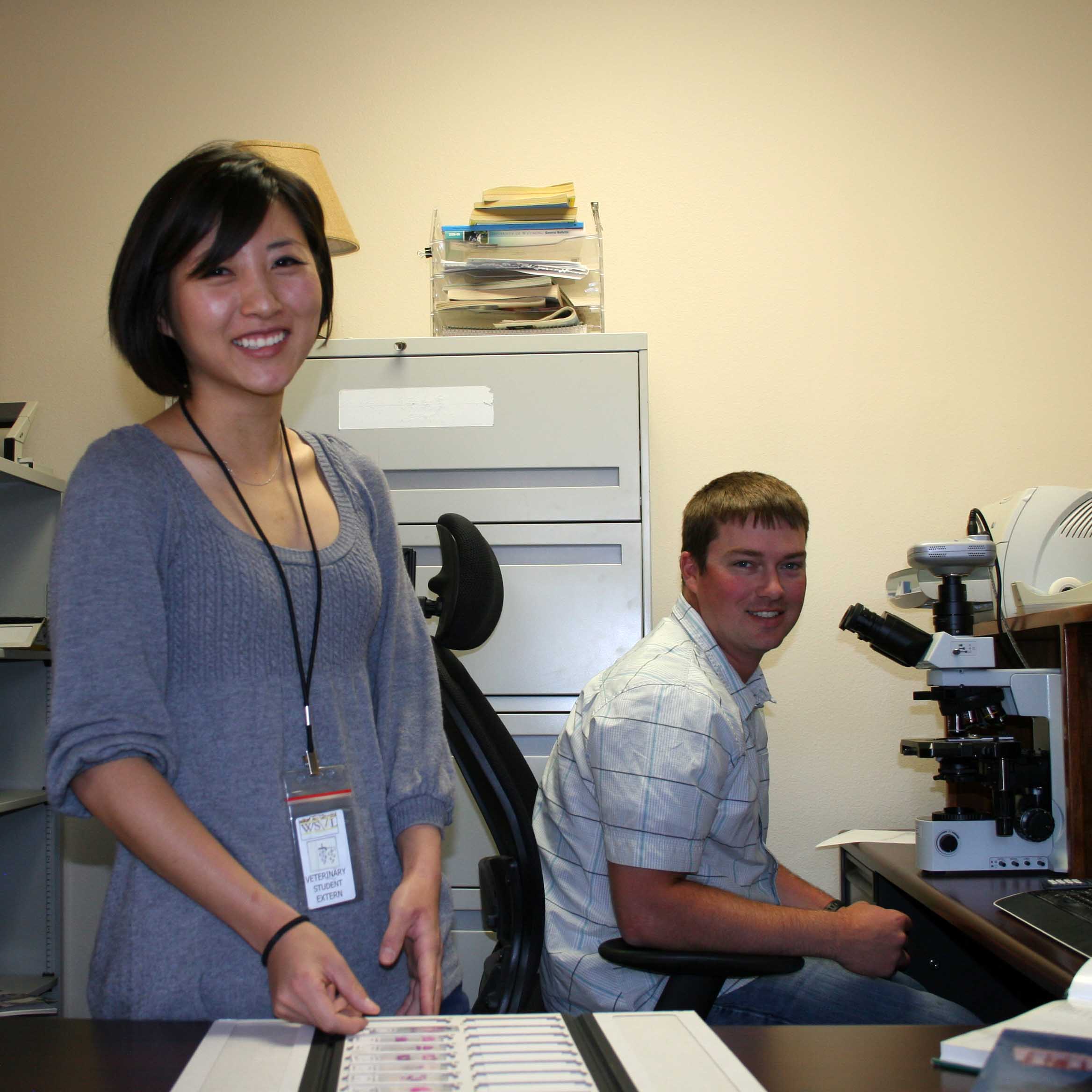 Eligibility
The externship opportunities are available to students in good standing who have successfully completed their first, second or third year of professional veterinary medical education at a College (or School) of Veterinary Medicine.  All pathology trainees are eligible as long as there are no visa requirements.  Students must be vaccinated against rabies and have their own health insurance.  Students from all AVMA-accredited veterinary schools are encouraged to apply. Selection will be based on qualifications as demonstrated by resume and academic standing. We encourage applicants from diverse backgrounds. Applicants for the summer externship must be received by February 20th to ensure full consideration. Other applications are accepted year round.  due to the high demand we cannot always accept deserving applicants.  Diagnostic case load is highest in the fall and spring.
Questions and Applications
For the summer and WSVL diagnostic externship opportunities please send enquiries to Dr. Fox at vetsci-extern@uwyo.edu.
Applications should provide a resume of professional and academic experience and include the time period(s) preferred for the externship in a cover letter.  A letter from the applicant's academic dean indicating approval of the externship is also required.
Please contact the head of the Diagnostic Externship Program with applications and questions:
Department of Veterinary Sciences, University of Wyoming
Wyoming State Veterinary Laboratory
1174 Snowy Range Road
Laramie, Wyoming 82070
Phone: (307) 766-9976
Fax: (307) 721-2051
Email: vetsci-extern@uwyo.edu